Heathrow Vow Returns to Haunt Cameron Amid Tory Spat Over Runway
by
Johnson, Goldsmith, Greening lead opposition to expansion

Prime minister's `no ifs, no buts' pledge looms over decision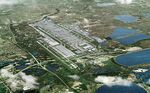 While U.K. Prime Minister David Cameron trumpeted his delivery of policy pledges made before May's general election, a vow he made six years ago against the expansion of London's key airport is proving more contentious in his party. 
Cameron, who gave a "no ifs, no buts" promise to block a third runway at Heathrow Airport in 2009, now finds himself forced to make a decision on whether to accept the advice of a commission he appointed and permit the hub's expansion. He has given himself until the end of the month to decide, and divisions in his Conservative Party, which he subdued by delaying his verdict, are bubbling to the surface.
"A manifesto shouldn't be a wish list, it should be a checklist," Cameron said in a speech on Monday to update voters on progress since he won a surprise majority in May. For lawmakers including London Mayor Boris Johnson, International Development Secretary Justine Greening and Zac Goldsmith, the Tory candidate to succeed Johnson, the checklists they gave their constituents included opposing Heathrow's expansion.
"I will make sure that I continue to represent my constituents' concern on this," Greening told the Sunday Telegraph newspaper. Though it would be "jumping the gun" to say she would resign from the cabinet if Cameron backs extra runway capacity at Heathrow, she didn't rule it out as an option.
Fox Demand
While west London lawmakers like Greening, Goldsmith and Johnson, who have voiced residents' concerns about the effect of extra flights on their homes, continue to be vocal in their opposition to Heathrow's expansion, former Defence Secretary Liam Fox drew up a letter signed by 30 other Conservative lawmakers calling for a third runway to be given the go-ahead.
Louise Ellman, a lawmaker for the opposition Labour Party who heads the cross-party House of Commons Transport Committee, added to the pressure on Sunday when she warned that the longer the decision is delayed, the worse it will be for economic growth and jobs as airlines switch their attention to competing hub airports.
"If we delay any longer, it doesn't mean we stand still, it means we lose routes to other European hubs and places like Dubai, it means the loss of jobs and the weakening of our economic prospects for the future," Ellman told Sky News television. "It really is time for decision making."
Gatwick Option
Cameron commissioned a report on airport capacity from Howard Davies in 2012 that allowed him to avoid making a decision before this year's election. Davies, who published his report in July, recommended building additional capacity at Heathrow, while also leaving open the option of a new runway at Gatwick, south of London.
"This very thorough report is going to get properly studied because this really does matter," Cameron told lawmakers in London on July 1. "The guarantee I can give is that a decision will be made by the end of the year."
Cameron may postpone his decision using a report from the Commons Environmental Audit Committee last week, which said any expansion at Heathrow should be delayed until it could commit to a series of anti-pollution requirements and concerns over air pollution standards as a result of the Volkswagen AG emissions-fixing scandal, the Times newspaper reported.
Business, Unions
A group of business leaders and labor unions campaigning for increased airport capacity in southeast England wrote to Cameron urging him not to put off the decision. Signatories included Frances O'Grady, the general secretary of the Trades Union Congress, and John Longworth, the director general of the British Chambers of Commerce, as well as Len McCluskey, general secretary of Unite, Britain's biggest trade union.
"Research for the Airports Commission found that a new third runway at Heathrow could deliver up to 211 billion pounds ($318 billion) in economic growth and up to 180,000 new jobs nationwide," they said. "Airport expansion in order to improve both our international and domestic connectivity is an issue of national importance that is fundamental to securing long-term economic growth and decent jobs in all the nations and regions of the U.K."
Cameron was a vocal opponent of Heathrow expansion before coming to office, dedicating a tree in a protest orchard planted by Greenpeace and referring to "Labour's third runway" in an attempt to make then Prime Minister Gordon Brown's government the focus of opponents as the two men battled to win votes in the west of the capital.
Party Program
The Tory manifesto for the 2010 election pledged to block a third Heathrow runway and stop the expansion of Gatwick and Stansted, London's other main airports. By May this year, the party's program for election said only that it would "respond to the Airports Commission's final report."
Goldsmith has pledged to quit as a House of Commons lawmaker if Cameron chooses to expand Heathrow, and the Sun newspaper reported on Saturday that the prime minister is considering putting off a decision until after Goldsmith's run for the mayoralty in May.
Cameron's spokeswoman, Helen Bower, said "the government's response" will be given by the end of the year, while refusing to be drawn on the prime minister's "guarantee" of a decision. "I wouldn't get lost in semantics," she told reporters in London on Monday. "We said we would come back by the end of the year, that's what we're doing."
In his speech on Monday, in Burton upon Trent, central England, Cameron emphasized his commitment to delivering on his 2015 manifesto pledges, even though disarray in the opposition Labour Party has led some in his party to push for a more radical agenda.
"Since the election, we haven't been tacking off in a new direction, but marking off the commitments we made," Cameron said. "I want to go back to that opening page and show that this is a government that delivers and is accountable as it endeavors to do so."
Before it's here, it's on the Bloomberg Terminal.
LEARN MORE