U.S. Stocks Drop With Global Equities as China Data Spark Angst
by and
Norwegian krone, Aussie lead commodity-linked currency slump

Crude extends losses at six-year low as energy shares slide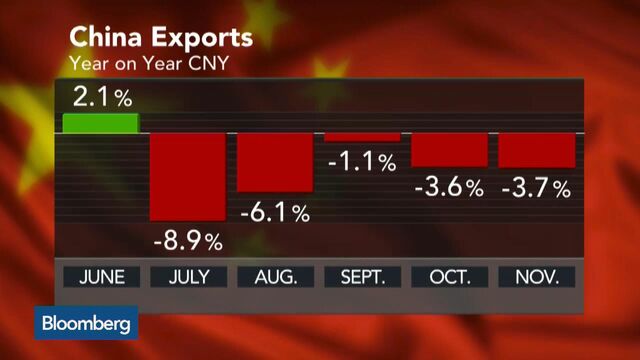 U.S. stocks joined a selloff in global equities, while currencies of commodity-producing nations tumbled as fresh signs of weakness in China's economy rekindled concern that a slowdown there could spread.
The Standard & Poor's 500 Index fell for the fourth time in five days as crude extended losses at a six-year low. Emerging-market shares also declined as a slump in Chinese trade intensified concern over the scope of the economy's weakness. Iron ore fell to an historic low. Oil's slide drove a rally in long-term government bonds from the U.S. to Germany one week before the Federal Reserve is predicted to raise interest rates.

"Prior to the past couple of days we were looking at how data was going to influence the Fed and rates and now the energy story is really dictating the market, it's all commodity-driven," said Larry Peruzzi, managing director of international equities at Mischler Financial Group Inc. in Boston. "The Chinese data that came out pushed us down this morning."
Chinese exports fell for a firth month, while imports capped a record 13th month of declines in November, rekindling concerns over Asia's largest economy akin to those that precipitated the summer rout on global financial markets. Oil's selloff is clouding the prospects for recoveries in the U.S. and Europe as capital spending wanes and inflation holds below central-bank targets, with the Fed poised to raise rates for the first time in a decade at its meeting next week.
Stocks
The S&P 500 fell 0.7 percent to 2,063.59 as of 4 p.m. in New York. The index has lost 0.8 percent in December, with its only gain in the month a 2.1 percent rally on Friday. The S&P 500 is still up 10 percent from its August trough, as worries about weakness in China abated after the government took steps to boost growth and support the stock market.
Industrial companies led declines Tuesday, with Caterpillar Inc. and Boeing Co. down at least 2.3 percent. Freeport-McMoRan Inc. slid 6.8 percent to pace a drop in materials producers.
Canada's S&P/TSX Index dropped 0.9 percent to close at a two-year low, while miners led the Stoxx Europe 600 Index down 1.8 percent. Anglo American Plc plummeted 12 percent after suspending dividends for the second half of 2015 and next year. BHP Billiton Ltd. retreated 5.5 percent in London and Rio Tinto Group lost 8.4 percent.
MSCI's Asia-Pacific gauge slid 1.3 percent Tuesday as a gauge of Asian energy shares retreated 3.9 percent to the lowest level since Oct. 1. Japan's Topix index dropped 1 percent, while Australia's S&P/ASX 200 Index fell 0.9 percent, with sub-indexes of energy and raw-materials producers sliding at least 3.4 percent.
Currencies
Oil's rout led commodity currencies lower. Norway's krone paced declines, tumbling to its weakest level since April 2002 against the dollar, while Canada's dollar slumped to a 11-year low. Australia's currency extended its biggest loss in a month, and South Africa's rand extended losses at a record.
The euro climbed with the yen on demand for haven assets. Europe's 19-nation shared currency added 0.5 percent to $1.0896 and the yen strengthened 0.3 percent to 122.97 per dollar.
Bonds
U.S. and German debt joined a rally in Australian bonds driven by the decline in oil prices, said Hideaki Kuriki, a bond investor at Sumitomo Mitsui Trust Asset Management in Tokyo. The company has $54.1 billion in assets.
"Inflation will stay at a low level all over the world," he said.
Bets the Federal Reserve will end the era of near-zero borrowing costs at its Dec. 16 meeting have climbed to 80 percent, with better-than-expected payrolls data Friday evidence the U.S. economy is probably strong enough to withstand higher rates.
Commodities
West Texas Intermediate crude fell a third day, extending losses at its lowest level since 2009 following the Organization of Petroleum Exporting Countries' decision to all but abandon any limits on its production. Oil has slumped about 40 percent since Saudi Arabia led OPEC's decision a year ago to maintain output and defend market share by pressuring higher-cost producers.
WTI for January delivery dropped 0.4 percent to $37.51 a barrel on the New York Mercantile Exchange after earlier touching $36.64. Brent slipped 1.2 percent to $40.26 on ICE Futures Europe, after earlier sinking below $40.
The Bloomberg Industrial Metals Subindex has tumbled 29 percent this year as economic expansion cools to the slowest pace in a generation in China, the world's top consumer. Most industrial metals declined on the export data out of China, the world's biggest base metals consumer.
Iron ore fell to a record low $38.65 a dry metric ton as producers press on with expansions to cut costs and defend market share.
Emerging Markets
The MSCI Emerging Markets Index fell for a fifth day, dropping 1.6 percent as all 10 industry groups declined. Benchmark gauges in China, Brazil and Colombia fell more than more than 1.2 percent.
The Bloomberg Gulf Cooperation Council 200 Index tracking companies in the oil-exporting Arabian Gulf fell 2.4 percent to the lowest level since May 2013. The Shanghai Composite Index slid the most in a week after data showed China's exports fell for a fifth month. 
A gauge tracking 20 developing-nation currencies fell to a record for a second day, led by Malaysia's ringgit. Brazilian commodity exporters led a 1.8 percent decline in the Ibovespa, while the real weakened for a second day.
Before it's here, it's on the Bloomberg Terminal.
LEARN MORE