Turkey Vows No More Troops in Iraq Without Baghdad Approval
by
Davutoglu wrote to counterpart to explain troop deployment

Iraqi government said it may appeal to UN to secure withdrawal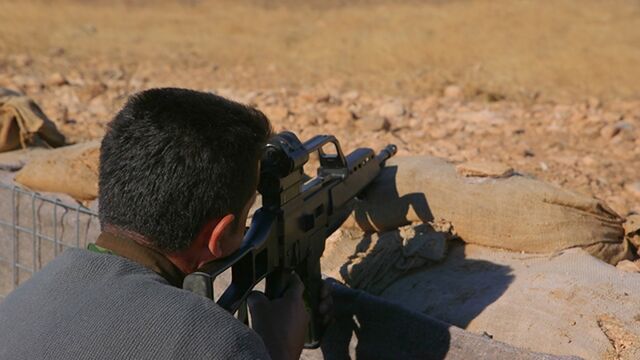 Turkey backtracked on a plan to send more troops into Iraq to support its allies there, after the government in Baghdad said it would appeal to the United Nations to force their withdrawal.
Turkish Prime Minister Ahmet Davutoglu told his Iraqi counterpart Haider al-Abadi that Turkey would take no steps that would violate Iraq's sovereignty or territorial unity, according to an e-mailed statement from his office. Earlier Sunday, Turkish officials had said Iraq invited Turkey to send troops to train local forces combating Islamic State militants. Abadi responded by threatening to take the issue to the UN Security Council. The U.S. also opposed the Turkish deployment.
"Our prime minister has stressed in his letter that there will be no transfer of forces to Bashiqa until the sensitivities of the Iraqi government are addressed," Davutoglu's office said in the statement. Davutoglu briefed his Iraqi counterpart on the deployed Turkish troops' training mission, according to the statement, which didn't specify whether they would be withdrawn.
The U.S. opposes any military deployment inside Iraq that doesn't come with the consent of the Iraqi government, a U.S. official said on condition of anonymity.
Turkey's deployment added to a wider arms buildup in the region as the military intervention against Islamic State in Syria and Iraq intensifies. Russia and NATO have deployed more warplanes and warships since Turkish aircraft shot down a Russian fighter jet last month. In Iraq, the U.S.-backed government's struggles against Islamic State leave the second-largest oil producer in the Organization of the Petroleum Exporting Countries vulnerable to break up along ethnic and sectarian lines.
"We are encouraged by reports that Turkish military forces have pulled back from the Iraqi border as diplomatic engagements proceed," Brett McGurk, President Barack Obama's special envoy to the coalition fighting Islamic State, said on Twitter on Sunday.
Closer Relations
A major Sunni power in the Middle East, Turkey has enjoyed closer ties with Iraqi Kurds led by Massoud Barzani than the Shiite-led central government in Baghdad, which is backed by Iran. It provides the sole route to market for the Kurdish oil industry, and trains Kurdish fighters as part of the international coalition against Islamic State gunmen.
That support also highlights Turkey's complex ties with other Kurdish groups in the region — it considers the PKK, a group seeking autonomy for Kurds in Turkey, as well as its Syrian affiliates, as terrorist organizations.
Turkish troops have frequently carried out missions in northern Iraq against PKK rebels, while its warplanes also bomb the main PKK base on Mt. Qandil on the Iraqi-Iranian border.
"This latest deployment increases Turkey's presence and, without question, will be viewed as part of a larger project to annex Iraqi territory,'' Aaron Stein, a non-resident fellow at the Washington-based Atlantic Council, said by e-mail on Sunday before Turkey's promise not to send further troops. "For many, this will be viewed as an attempt to break up the Iraqi state.''
Turkish soldiers are training Iraqis as well as Kurdish peshmergas to combat Islamic State, Turkish Foreign Minister Mevlut Cavusoglu said on Sunday.
Military Training
Turkey has trained 2,500 troops from the peshmerga forces and 1,250 Arab troops, and aims to increase this number to 14,000 troops, the pro-government Sabah reported, citing people it didn't identify. Sunni Arabs, a minority that ruled Iraq until the ouster of Saddam Hussein in 2003, accuse the federal government of marginalizing them.
Turkey opened the Bashiqa training base for Iraqi forces at the end of 2014, around the same time as it opened two camps in the Soran and Qalacholan districts of Kurdish northern Iraq, Kurdistan Regional Government spokesman Safeen Dizayee said in a statement on its website on Saturday.
Sending more troops "serves as a deterrent" against attempts by groups including the PKK to expand their influence in northern Iraq, according to Mehmet Kaya, head of the Tigris Communal Research Center in Diyarbakir, a Kurdish-dominated city in southeast Turkey. It also coincides with deteriorating relations between Barzani and the PKK, he said.
The recent deployment also sends a warning to Russia over its deepening involvement in the region, Haluk Ozdemir, head of international relations at Turkey's Kirikkale University, said by phone on Sunday before Turkey's promise not to send more soldiers.
"The Turkish deployment is aimed at assuring pro-Turkish forces in that area that they're not alone, and it's and it's also a message to Russia,'' Ozdemir said. "That said, I don't think Turkey and Russia will engage in any kind of direct military confrontation."
Before it's here, it's on the Bloomberg Terminal.
LEARN MORE