Short Sellers Descend on Asia Stocks as Profit Outlook Wilts
by
Regional shares trade at lowest relative valuation since 2004

Australia, Hong Kong, Singapore see biggest rise in shorts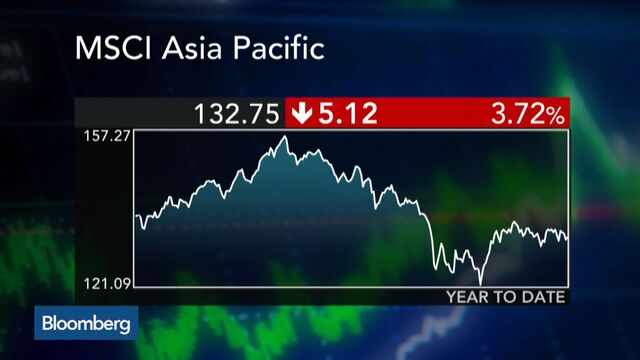 The cheaper Asian stocks get, the more emboldened bears get in betting on further declines.
Short interest in six regional markets is up 18 percent this year, and a separate measure of investor demand to borrow shares and sell them rose by a record, according to Markit Ltd. The MSCI Asia Pacific Index is trading at the lowest valuation relative to global equities in more than a decade as the gauge heads for a second straight annual retreat. Australia saw the biggest increase in bearish bets, followed by Hong Kong and Singapore, the Markit data show.
China's economy expanded an average 10 percent a year over the past decade, helping drive demand for everything from Australian iron ore to New Zealand milk, while central bank moves to flood the financial system with cash fueled housing booms in Singapore and Hong Kong. The backdrop now looks a lot more enticing for short sellers, with the Federal Reserve about to raise rates and Chinese growth decelerating to a forecast 6.9 percent, the slowest in 25 years, weighing on demand for goods and services across Asia.
"Our faith in the Chinese ability to engineer a soft landing is not high," said Harry Rosenbluth, a San Francisco-based senior adviser at Boston Partners Asset Management, which oversees $74 billion and owns a smaller percentage of Asian equities than are contained in benchmark indexes it tracks. "If there's a big miss in terms of a global growth slowdown, these stocks have vulnerability."
Growth Slowing
While central banks from South Korea to Australia, Thailand and China cut interest rates in 2015, Asian growth is likely slow to 4.6 percent in 2015 from 4.8 percent last year, according to economist estimates compiled by Bloomberg. A gauge of regional financial conditions fell to a six-year low in September and has been negative for most of the year, indicating more stress relative to the period from 2000 until mid-2008.
MSCI's Asian gauge fell 4.2 percent in 2015 through last week. The Stoxx Europe 600 Index jumped 8.2 percent, while the Standard & Poor's 500 Index is up 1.6 percent.

Analysts expect profits for companies in the MSCI Asia Pacific Index to drop 1.5 percent this fiscal year, data compiled by Bloomberg show. They cut 12-month forward earnings forecasts for companies in the measure by 5.5 percent since the start of 2015. Material producers are grappling with a 22 percent collapse in the Bloomberg Commodity Index, while the Fed outlook is weighing on Hong Kong property stocks and the region's emerging markets.
Long-Short Ratio
Markit's long-short ratio for Asia, which tracks shares available to borrow versus those actually out on loan, sank to a three-year low in September. The ratio falls as demand to place bearish bets increases. There was $10.89 available to cover each dollar of short bets on average this year. That's down 8.8 percent from 2014, the biggest decline in Markit data starting in 2006.
The 10 most-shorted members of the MSCI Asia Pacific Index of developed and emerging equities include Singapore-listed commodity trader Noble Group Ltd., mainland developers China Vanke Co. and Guangzhou R&F Properties Co., and Australian holiday-booking chain Flight Centre Travel Group, data compiled by Bloomberg show.
Noble Group and Guangzhou R&F are among the measure's 258 constituents that traded last week at a price-to-book ratio of less than one. The regional gauge traded at 1.4 times, the least relative to the MSCI All-Country World Index's ratio of 2.1 since December 2004. The gap between Asian and global equity multiples doubled over the past four years.
Earnings Struggling
"You've got cheap valuations all around Asia, but earnings growth is still struggling," said Nader Naeimi, the Sydney-based head of dynamic markets at AMP Capital Investors Ltd., which oversees about $114 billion. "Valuations alone aren't sufficient. You need other factors to fall into place and the most important for Asia is for financial conditions to ease."

While China's domestic benchmark stock gauge was on track to climb 9 percent this year as of Dec. 4, it plunged after peaking in June. At that point, the measure was up 60 percent for the year, before a $5 trillion rout erased the gains. Equities in most Asian markets are poised to end the year lower.
A measure of mainland firms listed in Hong Kong was down 18 percent in 2015 through last week, the biggest decline among Asian indexes, and trades at a lower valuation than shares in Pakistan. Singapore's Straits Times Index slumped 14 percent and Australia's S&P/ASX 200 Index fell 4.8 percent, with mining company BHP Billiton Ltd. handing investors the biggest losses. Hong Kong's Hang Seng Index was valued at 11.1 times estimated earnings after a 5.8 percent slide.
Bright Spots
Recent Chinese economic reports are showing bright spots, according to John Woods, at Credit Suisse Group AG. Retail sales in October climbed by the most this year, while a November gauge of services showed accelerating expansion. Investors are too preoccupied with sluggish industrial output, considering services are now the largest component of the economy, he says.
"The domestic demand story in China is surprising to the upside," said Woods, Hong Kong-based chief investment officer for Credit Suisse's private-banking business in Asia Pacific, which has 133 billion Swiss francs ($130 billion) of assets under management. He holds a greater percentage of Asian equities than are contained in benchmark indexes he tracks. "We definitely expect some strong stories in Asia over the next 12 months."
Japan's Topix index added 1 percent as of 2:06 p.m. in Tokyo, while Hong Kong's Hang Seng Index rose 0.3 percent. The MSCI Asia Pacific Index climbed 0.5 percent.
Bears have been less interested in Japan than other Asian markets this year, with short interest holding relatively steady, the Markit data show. The nation's Nikkei 225 Stock Average was up 12 percent through last week as Prime Minister Shinzo Abe's efforts to weaken the yen drives record corporate profits.
The increase in short sellers was most pronounced in Australia, which counts China as its biggest trading partner. Bears are targeting mining companies such as Fortescue Metals Group Ltd., as well as consumer stocks on bets that the end of the commodities boom will weigh on spending and confidence.
"There are some pretty big headwinds: the number one being China," said Mark Lister, head of private wealth research at Craigs Investment Partners in Wellington, which manages about $7.2 billion. "We're underweight Australia and we still see it as quite a difficult investment climate. Many of the consumer stocks just look challenged when you've got a cautious aggregate view on the economy."
Before it's here, it's on the Bloomberg Terminal.
LEARN MORE