Police Treating London Tube Stabbing as Terrorist Incident
by and
56-year-old man stabbed at Leytonstone station Saturday night

U.K.'s Counter Terrorism Command investigating incident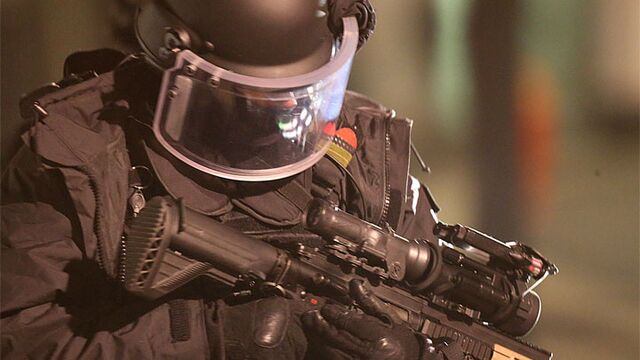 U.K. counter-terrorism police are investigating a stabbing at a London Underground station on Saturday night that left a 56-year-old man with serious injuries.
A 29-year-old attacker was arrested at the Leytonstone station in east London about 7 p.m. after he threatened passengers with a knife, according to a statement from the Metropolitan Police. He was arrested for attempted murder and remains in custody at an east London police station.
Witnesses told the U.K.'s Daily Mail the attacker shouted "This is for Syria" during the attack. U.K. aircraft began bombing targets in Syria last week. Detectives are searching a residential address in east London, Police said.
"We are treating this as a terrorist incident," Commander Richard Walton of the U.K.'s counter-terrorism police unit said in the statement. "I would urge the public to remain calm, but alert and vigilant. The threat from terrorism remains at severe, which means that a terrorist attack is highly likely."
The victims' injuries are not believed to be life-threatening and he's now in a stable condition, police said. A second man sustained a minor injury that didn't require medical assistance while a woman was threatened by the attacker but wasn't injured. Police said they arrested the attacker after an officer discharged a Taser.
The incident comes three days after the U.K. parliament voted to begin air strikes on Islamic State targets in Syria. It also follows a shooting rampage that killed 14 people in California, which is being investigated by U.S. authorities as a terrorist attack, and the deadly assaults in Paris last month.
Cameron 'Monitoring'
"There is an ongoing police investigation into the attack in London," Prime Minister David Cameron's office said in a statement. "We are monitoring the situation closely."
Iain Duncan Smith , secretary of state for work and pensions and a lawmaker for the Chingford district in northeast London, said the attack shouldn't deter people from their normal routines.
"We cannot let these sorts of people -- terrorists et cetera -- dominate our space," he told BBC TV's "Andrew Marr Show" in an interview. "Our values -- our freedom of expression, our freedom of belief, our freedom of association, the freedom that capitalism brings to us, our ability to take our families out at Christmas -- none of that should be curtailed, because that is why they attack us."
Leytonstone station is about 8 miles northeast of Trafalgar Square in central London, or about a 40-minute journey by the tube.
"The stabbing in Leytonstone is absolutely shocking," Jeremy Corbyn, the leader of the opposition Labour Party, posted on Twitter. "My thoughts are with the victim and his family."
Before it's here, it's on the Bloomberg Terminal.
LEARN MORE