Next Up for Bid: This Shuttered Pakistan Firm Is a `Nightmare'
by and
Pakistan Steel among the worst-run state enterprises: Zubair

Time running out for stake sales to meet IMF loan conditions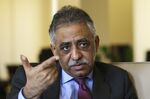 Of all the shoddily run Pakistani state-run companies that Mohammad Zubair needs to sell in the next year, he says none is worse than Pakistan Steel Mills Corp.
Investors see about two-thirds of the company's 16,000 workers as unnecessary and most others as incompetent, Zubair, who heads Pakistan's privatization program, said in an interview. Losses are running at roughly $20 million a month after the firm stopped operating in June because it couldn't pay its gas bill.
"Finding a potential buyer for Pakistan Steel will be a nightmare because the company is a nightmare," said Zubair, 59, a former IBM executive. "I've always sold IBM products which is the easiest -- you're always going with the best products or services. Now you're going with one of the worst."
Time is running out for Pakistan to sell stakes in about 40 state-run companies to meet conditions for a $6.6 billion loan package it received from the International Monetary Fund in 2013. Progress is crucial for Prime Minister Nawaz Sharif to show the world that Pakistan is changing as it seeks to attract foreign capital to its financial markets.
Behind Schedule
Asked about Zubair's "nightmare" comment, Pakistan Steel spokesman Syed Abdul Hafiz Shah said the losses began piling up after the 2008 financial crisis.
"Production is zero and liabilities can't be paid, so obviously it's difficult to run," Shah said. "It's up to the government what it decides. We will have to follow it."
The privatization program is already behind schedule and facing resistance among unions and opposition political parties. Five transactions yielding $1.7 billion have been completed so far, and deadlines are being pushed back.
Zubair emphasized that the privatization push is still on track. He said that legal and political hurdles have delayed the timeline for asset sales by only about three months.
"This is a very critical stage," Zubair said at his office on Dec. 4. "This is just the stage where the next momentum will be seen by the people of Pakistan."
Strategic sales are more complicated and time consuming than capital market transactions, according to Mohammed Sohail, chief executive Topline Securities Ltd.
"The challenge is not the opposition parties or people opposing privatization," Sohail said by phone from Karachi. "The situation of these companies is so bad that it will be difficult to find a buyer."
Airline Bids
The three companies seen as benchmarks for success are Pakistan Steel, national carrier Pakistan International Airlines Co. and Faisalabad Electricity Supply Co., known as Fesco. All have been earmarked for privatization for more than two decades.
A presidential decree issued last week repealed the 1956 law setting up Pakistan Airlines, removing a hurdle to selling a 26 percent stake in the national carrier. China's Hainan Airlines Co. is among companies that have expressed interest, Zubair said, adding that he'll also seek bids from Emirates, Etihad Airways PJSC and Qatar Airways Ltd. A sale would likely be completed by the end of August, two months behind the original timeline.
Fesco is profitable and will be the easiest of the three to sell despite having 9,000 outstanding legal cases and spotty financial documentation, Zubair said. He plans to unload a 74 percent stake by May, a sale he hopes will generate momentum for other power producers that are in much worse shape.
Political Decisions
Pakistan Steel is more complicated. Established in 1973 to supply a nascent manufacturing sector, the company stopped operating in June after gas supplies were cut off due to mounting debts, according to Shah, the company's spokesman. Its workforce has shrunk to 14,000 as those who hit retirement age aren't replaced, he said.
The cabinet decided to allow the government of Sindh province -- where Pakistan Steel is based -- to have the first shot at the 74 percent stake up for sale. If Sindh doesn't express interest by Dec. 15, Zubair said he would write to the cabinet and look for other buyers.
"Everything isn't done on a pure professional, commercial basis," Zubair said, adding that he opposed the move to reach out to Sindh. "Politics is involved, and rightly so because these are important stakeholders and you have to take them on board."
'Stop the Bleeding'
After the cabinet signs off on the structure, another six months will be needed to complete the transaction, Zubair said. Other sales in the pipeline include Kot Addu Power Co. Ltd, SME Bank Ltd, State Life Insurance Corp and electricity distribution companies in Lahore and Islamabad, he said.
Besides completing the actual sales, Zubair will also need to convince lawmakers and the public that they are getting a fair price. The enterprises are costing taxpayers about 400 billion rupees ($3.8 billion) a year in losses, he said.
"Of course we want to maximize the price, but that's not the reason we are selling," he said. "We are selling first to stop the bleeding."
Before it's here, it's on the Bloomberg Terminal.
LEARN MORE