Secret Recording Threatens Future of Jokowi Political Opponent
by and
Vice President Kalla says speaker should resign over scandal

Parliamentary committee probes speaker over mining meeting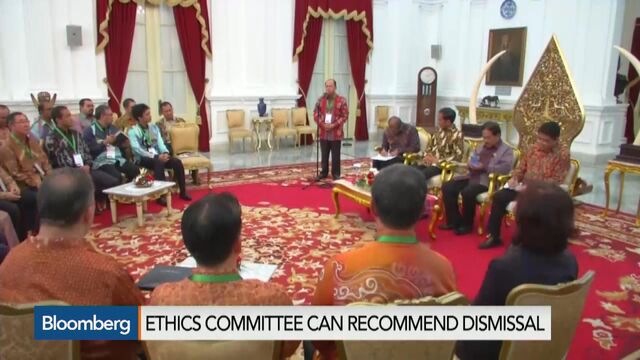 Indonesian Vice President Jusuf Kalla called on parliament's speaker to step down over a recording suggesting he sought shares in Freeport-McMoRan's Indonesian unit in return for helping the mining giant extend its government contract to operate.
A parliamentary ethics committee is probing Setya Novanto, who has been under pressure since the recording surfaced last month of him speaking during a meeting with PT Freeport Indonesia chief executive officer Maroef Sjamsoeddin, a former deputy intelligence chief. Sjamsoeddin said he recorded the conversation for his "protection."
Novanto has questioned if the recording is genuine or been doctored, but at other times acknowledged attending the June meeting at a luxury Jakarta hotel. He has also said he was joking or that his remarks and intentions had been misinterpreted. "I feel I have done nothing wrong, I feel I was treated unfairly being bugged," he said last month, according to the Kompas daily. "I'm shocked."
The affair puts his position at risk and could spur a shakeup in the leadership of the parliament that elevates factions more supportive of President Joko Widodo, giving him traction for his economic reforms. It also has implications for the powerful Golkar party, of which Novanto and Kalla are members, which is split on whether to formally join the ruling coalition.
Credibility, Trust
"He must step down," Kalla said last week in an interview in Jakarta, referring to Novanto. "The main asset of the parliament is credibility and trust. If trust no longer exists, a person can't be speaker of the house." The ethics committee has not given a timetable for handing down the results of its investigation.
Freeport, which mined $2 billion in copper and $1.4 billion in gold in 2014 from its massive Grasberg mine in eastern Papua province, is seeking an extension to its contract that expires in 2021. The government says it can only legally start negotiations in 2019. Freeport Indonesia has agreed to sell about 20 percent of its shares as part of a contract negotiation.
Mining Contract
In the 80-minute recording played last week in the parliamentary hearing, Sjamsoeddin and Novanto discuss the extension of Freeport's contract, the sale of shares and a planned power plant in Papua. In oblique remarks, Novanto and an oil importer who also attended the meeting sometimes invoke the names of Widodo, Kalla and security minister Luhut Panjaitan. The country's police chief was quoted in local media saying it's not illegal to tape a conversation.
After testifying to the parliamentary committee Monday, Novanto refuted using Widodo and Kalla's names to seek shares in Freeport Indonesia. "I have conveyed in detail that I'm not guilty," he told reporters. "I have delivered it as clearly as possible."
Kalla, a businessman with interests in power stations and coal, said he had nothing to do with the affair. "Of course I'm upset, my name is there," he said, referring to the tape. "Asking for shares is considered corruption."
The scandal has reinforced public perceptions of graft and rent-seeking in Southeast Asia's largest economy, a sprawling, decentralized archipelago where business permits are often handed out at the local level. Widodo, known as Jokowi, came to power last year with a pledge to tackle graft and make it easier for businesses to operate, with surveys over the years showing corruption is seen as widespread in politics and the police.
'Real Peril'
"I don't think Novanto is in real peril yet," said Kevin O'Rourke, author of "Reformasi: The Struggle for Power in Post-Soeharto Indonesia. "But, in the event that circumstances worsen and the committee does indeed oust him, that would certainly improve conditions for Widodo," he said, referring to the parliamentary probe.
The imbroglio indicates Jokowi has yet to make serious inroads into halting graft, say analysts. Indonesia was ranked 107th of 175 states and territories in Transparency International's 2014 Corruption Perceptions Index.
"I don't think the recent scandal is out of the ordinary with regard to previous Indonesian politics," said Michael Buehler, a lecturer in comparative politics at the School of Oriental and African Studies at the University of London. "Novanto has become increasingly vulnerable and probably does no longer have any powerful backers."
Indonesia has a history of rent-seeking in the resource sector, where big business and politics may align. Among the recent graft cases, former mining minister Jero Wacik is on trial for corruption, a charge he denies. Oil, gas and mining make up 16.5 percent of gross domestic product in a country that is the world's largest exporter of power-station coal and a major source of copper, tin and natural gas.
Criminal Probe
Speaking to reporters in Jakarta on Monday, Jokowi said he respected the parliamentary committee process, and denied any wrongdoing.
"I'm fine being called a crazy president, insane president, silly president, it's fine," Jokowi said. But he said he could not accept accusations that his name was cited to benefit others. "Can not! This is an issue of decency, appropriateness, morality."
The parliamentary committee can formally recommend Novanto's dismissal, which would require a plenary meeting of the house. It's unclear how long it will hold hearings before making recommendations. The attorney general's office has also launched a criminal probe but has yet to bring any charges or publicly accuse anyone of wrongdoing.
In testimony to the committee last week, Sjamsoeddin said he recorded the conversation because two prior meetings with Novanto led him to believe he might need "protection" against issues he thought Novanto would bring up. He said he had a responsibility to hand it over to mines and energy minister Sudirman Said, who first made the case public.
Nation's Dignity
"As a minister if I get to know that a national leader is behaving unsuitably and using the names of the president and vice president then that is undermining the nation's dignity," Said told the ethics committee on Wednesday, referring to Novanto. "I then have the right to report this to this respected court."
Freeport Indonesia declined to answer questions related to the affair.
"PTFI conducts its business activities in accordance with all applicable laws and regulations, its Contract of Work and its Principles of Business Conduct," it said in a statement. "Indonesian authorities are conducting inquiries into this matter and we will cooperate with government authorities."
Before it's here, it's on the Bloomberg Terminal.
LEARN MORE