Australia Defends Anti-Terror Legislation Aimed at Dual Citizens
by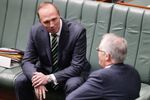 Australian Immigration Minister Peter Dutton on Sunday defended new laws that allow the government to strip Australian citizenship from dual nationals suspected of engaging in terrorism.
The government will start to look at "potential candidates," Dutton told Sky News. The legislation, passed last week, is aimed at stopping dual citizens who are involved with terrorist groups from returning to Australia.
"It is important we have the potential to stop some people from returning to our shores," he said. "Frankly we don't want them back here. So we're looking at some individual cases, but we're not talking about vast numbers."
Before it's here, it's on the Bloomberg Terminal.
LEARN MORE