Chuck Williams, Founder of Williams-Sonoma Retailer, Dies at 100
Stephen Miller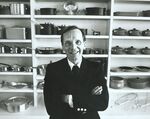 Chuck Williams, who founded cookware retailer Williams-Sonoma Inc. in 1956 and helped spur a gourmet revolution in American kitchens, has died at the age of 100.
Williams died Saturday of natural causes, the company said in a statement.
A building contractor with a passion for cooking, Williams started the company in 1956 in Sonoma, California, selling kitchen items then unfamiliar to most Americans such as saute pans, souffle dishes and fish poachers. Two decades later, he brought in partners who expanded into home furnishings, building a retail and mail-order empire that now includes eight brands that generated revenue of $4.7 billion in the latest fiscal year.
Williams learned to love cooking from his grandmother and "filled the store with what I wanted to see in my kitchen," he said, according to a 2003 interview in Fortune Small Business magazine.
He helped introduce kitchen equipment including garlic presses, food processors and pasta machines and said he was the first to import balsamic vinegar from Italy.
In 1958, Williams moved his store 45 miles (72 kilometers) south to San Francisco, where the company is based, and soon added three locations. In the early 1970s, he started a mail-order business that thrived as Americans became more sophisticated about cooking.
French Cuisine
Culinary awareness swept through the culture, with French cuisine becoming popular. Julia Child's "Mastering the Art of French Cooking" was published in 1961 and her televised cooking show debuted several years later.
"She really encouraged people to cook, and as her show began to find an audience, we found more customers," Williams said, according to Fortune. "One night she showed how to make a souffle, and the next day people came in asking about souffle dishes."
James Beard, another teacher of the gastronomic arts, was a friend who cited Williams in his syndicated newspaper columns as a source for quality cookware.
Realizing he needed a more business-savvy co-owner to manage the company's growth, Williams sold a majority interest to W. Howard Lester and his associate, James McMahan, for $50,000 apiece, according to Lester's 2010 obituary in the New York Times. Lester expanded into home furnishing by adding brands including Williams-Sonoma Home, Pottery Barn, Pottery Barn Kids, PBTeen and West Elm.
World Traveler
Williams stayed on as chairman, traveling the world on monthlong buying trips to find more products to elevate the art of cooking. He also became editor of Williams-Sonoma's library of cookbooks.
"His eye for detail has allowed him to find that unique item hidden on some shelf in an obscure showroom that would ultimately become a best seller with American cooks," Lester said in the introduction to a 1995 oral history with Williams archived at the University of California at Berkeley.
The company went public in 1983.
Charles Edward Williams was born Oct. 2, 1915, in Jacksonville, Florida. His father, also Charles Edward Williams, was an auto mechanic and his mother, the former Nettie Shaw, an office manager. His grandparents, former restaurateurs, lived with the family off and on and inspired Williams's devotion to food and related equipment.
Great Depression
His grandfather built his own refrigerator "long before electric refrigerators were eventually made for houses," he said in the oral history.
His father's business failed during the Great Depression, the family moved to California and Williams's parents separated. He later worked in department stores as a window dresser and ran the shipping department at I. Magnin & Co., a California-based retailer.
During World War II, Williams spent time in India and Africa as an airplane mechanic. After the war, he worked as a contractor in Sonoma, where he built houses and enjoyed cooking and drinking wine with friends.
In 1952, he visited Paris, where he became fascinated by French cookware. After returning to the U.S., he renovated a hardware store in Sonoma and opened his first shop, offering imported French cooking equipment.
'Flimsy Pots'
"Cookware in this country has changed completely from what it was 40 years ago," Williams said in a 1999 interview. "It was flimsy pots and pans and very few of them, and now we have the best of everything."
By the time he moved his company to San Francisco, it had a reputation for attracting affluent consumers and hippies who cooked communally in the big French stew pots Williams sold. The store became a mecca for foodies. Popular cookbook writers including Marcella Hazan, author of "The Classic Italian Cookbook" (1973), and Child visited for book signings and food preparation lessons.
Laura Alber, chief executive officer of Williams-Sonoma, said in the statement that Williams was "our mentor and our friend."
"He had impeccable taste, unique insight for selecting the right products at the right time, and the highest standard of customer service," she said.
Among the company's newest brands are Rejuvenation, which sells reproductions of period lighting fixtures and house parts, and Mark and Graham, offering monogrammed gifts and accessories.
Meanwhile Williams, who never married, continued to seek the next product to help cooks prepare more interesting meals.
"Right from the beginning in the store, this is what it was all about -- talking food, talking recipes, making a charlotte, a cheesecake, a muffin," he said in the oral history.
Before it's here, it's on the Bloomberg Terminal.
LEARN MORE