China's No. 4 Fugitive Surrenders After Fleeing to U.S. in 2002
by
Huang Yurong was named in April list of 100 fugitives abroad

Absence of extradition treaty no bar to getting suspects home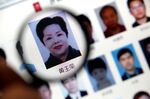 China said the woman ranked fourth on its list of 100 overseas fugitives returned to Beijing voluntarily from the U.S., adding to successes for the nation's anti-corruption campaign.
Huang Yurong, a former vice-chairman of the highway department in the province of Henan, fled to the U.S. in 2002 after being charged with accepting bribes, the Communist Party's anti-graft agency said on its website Saturday.
Photographs published with the statement showed Huang, who's in her 60s, under escort and signing a document in an unidentified office. Her case was one of those handled by a China-U.S. working group, with investigators from both countries working together, the agency said.
The fugitive's return adds to China's successes in getting alleged criminals back from the U.S. despite the absence of any extradition treaty between the two nations. In September, ahead of President Xi Jinping's first state visit to Washington, another suspect was the first on the list of 100 to be repatriated from the U.S., the anti-graft agency said then.
China this year stepped up efforts to cooperate with and reassure countries such as the U.S. and Australia -- where it lacks formal extradition agreements and which may be uneasy about sending suspects back in case they face persecution.
Mug Shots
In April, the government published a gallery of photographs of the 100 suspects as part of a campaign dubbed "Sky Net" to find and return them. In May, China said that the No. 1 suspect, Yang Xiuzhu, an official accused of embezzling more than $40 million, was in U.S. custody. Yang is seeking political asylum, according to an Associated Press report in September.
Huang returned to China with a domestic corruption campaign in full swing, as investigators sweep through the securities industry in the aftermath of the nation's mid-year stock bust. Executives at Citic Securities Co. and officials at the China Securities Regulatory Commission are among those under scrutiny.
The list of overseas fugitives spanned people from finance and property to oil and car manufacturing. About 40 out of the 100 were thought to be in the U.S. when the list was released in April.
"I've returned to my country, my home," Huang said on arrival, according to the anti-graft agency, the Central Commission for Discipline Inspection. The agency reported her confidence in the country's legal system.
Before it's here, it's on the Bloomberg Terminal.
LEARN MORE