Xi Unveils $60 Billion Funding Pledge at South Africa Summit
Rene Vollgraaff, Amogelang Mbatha and Mike Cohen
Africa to get $5 billion in interest-free loans, Xi says

China investment in Africa fell more than 40 percent in 2014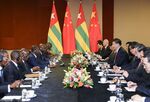 Chinese President Xi Jinping opened a summit with dozens of African leaders in Johannesburg on Friday, pledging $60 billion in funding to promote cooperation and support development efforts in the world's poorest continent.
The support package includes $5 billion of interest-free loans and $35 billion in preferential financing, export credit lines and concessional loans, Xi said in his opening address to the gathering at the Sandton Convention Centre in South Africa's commercial capital. China is providing support to help lift Africa out of poverty and boost trade and doesn't seek to interfere in nations' internal affairs, he said.

"China strongly believes Africa belongs to the African people and African problems should be handled by the African people," he said.
The two-day summit of the Forum on China-Africa Cooperation is the first such top-level gathering to be held in Africa since the grouping was formed in 2000. Trade relations and development projects will top the agenda, but talks are also planned on joint security efforts.
While China is Africa's largest trading partner, with two-way flows exceeding $220 billion last year, the continent primarily exports raw materials while purchasing manufactured goods. Chinese investment in Africa fell by more than 40 percent in the first half of 2015, as the world's second-largest economy slowed, according to the Chinese Ministry of Commerce.
"The width and depth of the relations between China and Africa have grown so much that the African continent now belongs to one of Beijing's top strategic considerations," Shu Yunguo, director of the Center for African Studies at Shanghai Normal University, said by phone before the summit. "Beijing will likely stress that under the slower domestic-growth situation, the areas of cooperation and investment may change but the commitment would stay the same."
Trade between Africa and China slumped 18 percent in the first nine months of 2015 from a year earlier, the largest decline in China's trade with the world's continents, according to China's commerce ministry.
"The invisible hand of the market is far more powerful than any government," Zhong Jianhua, China's special representative on African affairs, told reporters Friday. "At first China was asked why were were buying so much commodities and now we are being asked why we are not buying more now that prices are low."

China will negotiate free-trade agreements with Africa to promote imports from the continent and support the agriculture industry to help create more local jobs, Xi said.
"Our relationship with China stood the test of time and is destined to continue flourishing for many years to come," Zimbabwean President Robert Mugabe, the chairman of the African Union, said in a speech.

(An earlier version of this story was corrected to show that China has world's second-biggest economy.)