Radio City's Santa Claus Wears Fireproof Fat Suits to Work
The joy of Santa hooks a former Scrooge.
By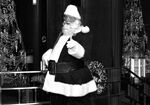 Charles Edward Hall
54, Santa Claus, Radio City Christmas Spectacular
What's your job?
I'm Santa Claus. We used to do a version of A Christmas Carol, and for a few years there I was Ebenezer Scrooge, as well. But the joy and happiness of Santa took over. I've been portraying him for 29 years.
You no longer play Scrooge?
No. I like to tell people that Ebenezer taught me to be a better actor, but Santa has taught me to be a better man.
How did you get involved in the show?
You know, I get that question from children quite frequently, and I always try to answer in an honest way: I auditioned.
Can you tell me about the suit?
Actually, I have about five or six custom-made suits, along with three or four fat suits. All of the suits are identical, and of course, the Christmas red has to match everything. Because we have pyrotechnics in the show, everything has been fireproofed.
Are those your real glasses?
They're Santa's real bifocals, but not mine.
How long does it take you to get into costume?
About 15 minutes.
Really?
I do my own makeup, but I also have hair people and dressers and sound men.
What do you do the rest of the year?
I do lectures, and I'm the artistic director of a not-for-profit theater in Kentucky called Twilight Theater Productions. And I have a book called Santa Claus Is for Real: A True Christmas Fable About the Magic of Believing. It's my memoir.
Aw, that's charming.
Well, it's a charming little book.
Before it's here, it's on the Bloomberg Terminal.
LEARN MORE