U.S. Employers Shaking Off Global Risks With Broader Hiring
by
Breadth of American industries hiring is widest in nine months

Stronger-than-expected payrolls probably clears way for Fed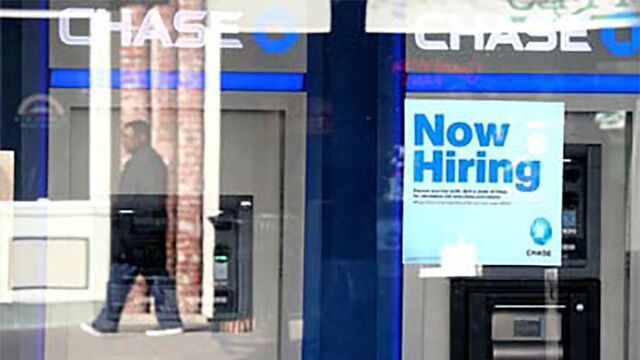 American employers continued to add staff at a rapid pace in November, showing a renewed confidence in the world's largest economy that will probably prompt the Federal Reserve to raise interest rates.
Payrolls climbed by 211,000 last month following a 298,000 gain in October that was larger than previously estimated, Labor Department figures showed Friday. The breadth of industries increasing headcounts was the widest in nine months and the jobless rate held at a seven-year low of 5 percent.
"We're not leaning on one or two or three industries to support the job market," which is "very encouraging," said Ryan Sweet, a senior economist at Moody's Analytics Inc. in West Chester, Pennsylvania, whose forecast for payrolls was among the closest in the Bloomberg survey. "We're creating more than enough jobs to reduce the slack in the broader labor market."
The figures underscore Fed Chair Janet Yellen's view that slowdowns in emerging markets or Europe won't derail the U.S. expansion, clearing the path for officials to raise the benchmark interest rate this month for the first time since 2006. The pace of future rate increases will be contingent on progress toward the central bank's inflation goal and probably depends on how quickly wage pressures mount as the job market tightens.
Stocks Higher
Stocks rose, rebounding from the steepest drop in two months, as the jobs data signaled the economy is strong enough to withstand higher borrowing costs. The Standard & Poor's 500 Index climbed 2.1 percent to 2,091.69 at the close in New York.
The index of industries boosting payrolls rose to 60.5 in November, the highest since February, Friday's report showed. Figures greater than 50 signal more are hiring than firing. Construction companies, retailers, health-care providers and restaurants were among employers adding staff.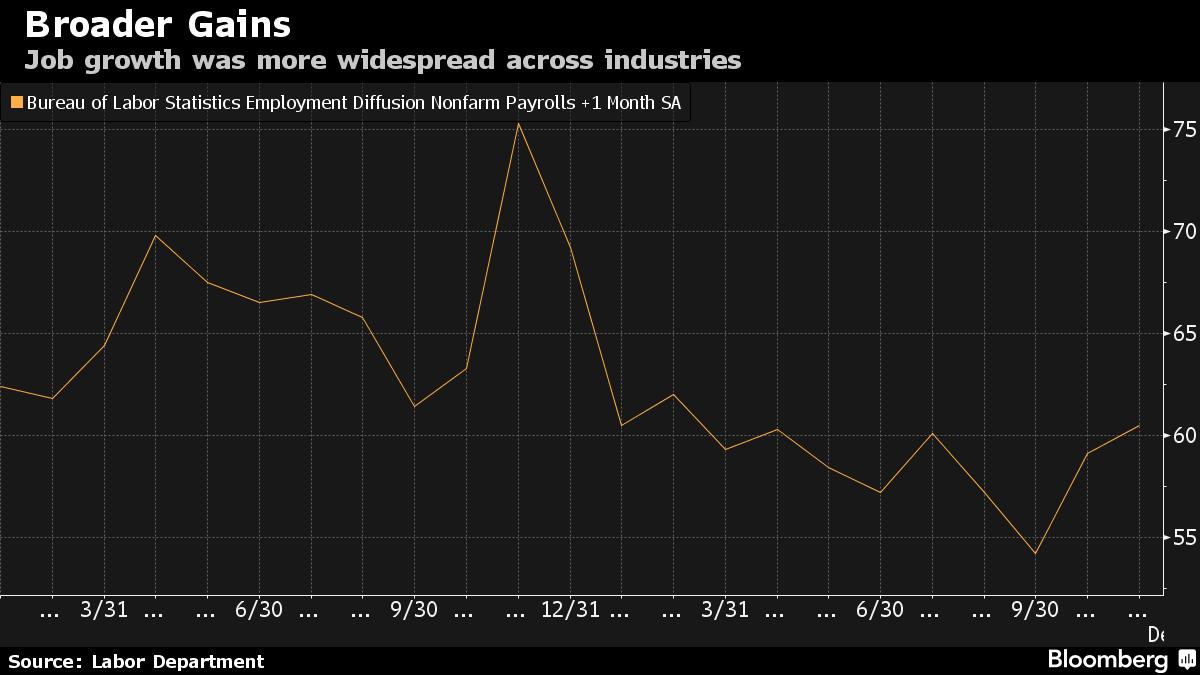 "It was a broad-based gain across all sectors, and that's absolutely essential," said John Silvia, chief economist at Wells Fargo Securities LLC in Charlotte, North Carolina, whose forecast for payrolls was also among the closest. The jobs report "is a bright green signal for the Fed to go ahead and move in December," and indicates future rate increases should proceed at a "moderate pace."
While employee pay gains that eased in November from a year earlier, they will probably accelerate next month. Average hourly earnings at private employers rose to $25.25 in November, up 2.3 percent from a year earlier after a 2.5 percent October advance. Because wages cooled at the end of 2014, even no change in hourly pay next month would leave earnings 2.6 percent higher in the 12 months through December.
Wage gains so far this year have been the strongest for any comparable period since 2008.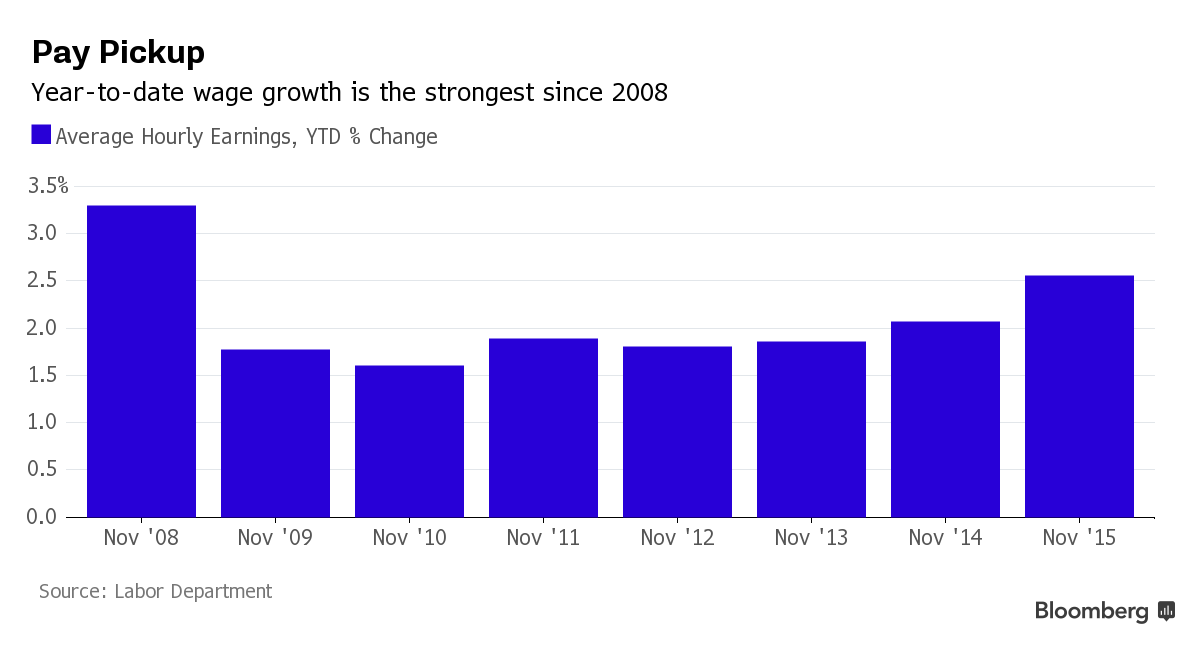 Employment in November was spurred by the biggest increase in construction hiring since January 2014. Builders took on 46,000 workers, led by residential specialty contractors and boosted by warmer weather across much of the U.S. 
Payrolls at retailers rose by almost 31,000 in November after a 40,600 gain, the strongest back-to-back gains since last year as merchants prepared for the holiday-shopping rush.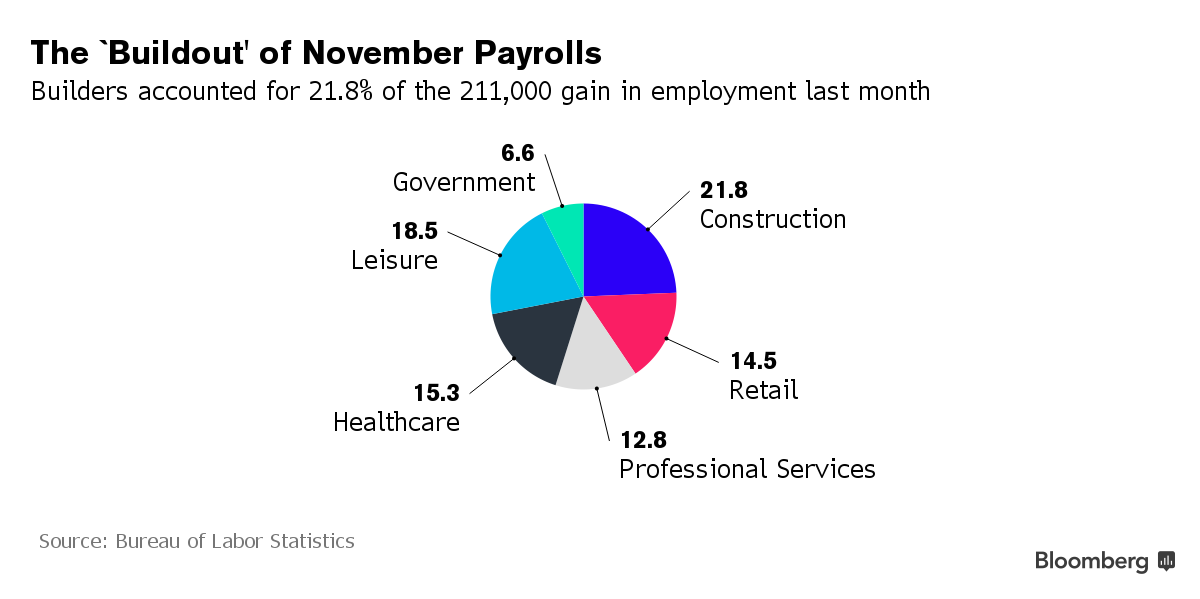 Estimates for total employment from 91 economists in the Bloomberg survey ranged from gains of 130,000 to 275,000 after a previously reported 271,000 October increase. Revisions to prior reports added a total of 35,000 jobs to overall payrolls in the previous two months.
Derived from a separate Labor Department survey of households, the underemployment rate, which adds in part-time workers who'd prefer full-time positions and people who want to work but have given up looking, crept up to 9.9 percent from 9.8 percent in October.
The figure reflected an increase in the number of Americans working part-time for economic reasons, one of Yellen's favorite measures of labor-market slack.
Labor Participation
The labor force participation rate -- the share of working-age people who are employed or looking for work -- rose to 62.5 percent from 62.4 percent. Participation has declined this year, part of a broader trend that Yellen has said is related to the aging of the U.S. population.
"I don't think we should expect to see labor force participation move up a great deal over time," she told the Joint Economic Committee of Congress on Thursday. "If it were simply stable over time rather than on that declining trend, I think we would be absorbing people who were perhaps discouraged." Fed policy makers next meet on Dec. 15-16.
With the Fed widely expected to raise rates in less than two weeks, the November jobs data will likely be used to guide the pace of future increases. Investors see a 74 percent chance of a hike, assuming that the effective funds rate after liftoff is about 0.375 percent.
Progress in the labor market has played a large role in building the Fed's confidence that the economy can handle a boost in the benchmark rate. The second part of the central bank's dual mandate -- stable prices -- has been more elusive. The Fed's 2 percent target for inflation hasn't be met since April 2012.
Before it's here, it's on the Bloomberg Terminal.
LEARN MORE