U.K.'s Labour Increases Vote Share in First Test for Corbyn
by and
Jim McMahon wins with 62% of Vote; UKIP 23%; Conservatives 9%

Farage blames people who `don't speak English' for UKIP defeat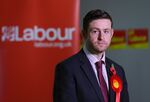 Jeremy Corbyn passed the first test of his standing with British voters as his opposition Labour Party defied predictions and comfortably held onto a House of Commons district in a special election.
Labour's Jim McMahon took 62.1 percent of the vote to 23.4 percent for the second-placed candidate, John Bickley of the anti-immigration U.K. Independence Party, in Oldham West and Royton in northwest England on Thursday. McMahon won a more commanding victory than his predecessor Michael Meacher, who retained the seat with 54.8 percent of the vote in the May general election. Meacher died in October.
The result is a boost for Corbyn, who was elected leader by a clear majority of party members in September but only a small minority of Labour's 232 Members of Parliament. Dozens voted in opposition to him over Syria this week and there had been speculation that Labour could see its majority in Oldham slashed or even lose the seat that Meacher had held since 1970.
While turnout was lower than at the general election, at just over 40 percent, Corbyn hailed Labour's win as a "vote of confidence" that demonstrated the strength of support for his anti-austerity message.
'Deep-Rooted'
Labour "stood on a campaign of jobs, of people's needs, of opposing what Tory austerity is about, but also bringing investment, apprenticeships and a good future for the people of Oldham," he said during a visit to the district on Friday. "It shows just how strong, how deep-rooted and how broad our party, the Labour Party, is for the whole of Britain."
UKIP made Corbyn a target of its campaign, questioning his patriotism and accusing him of being soft on terrorism. One leaflet branded the Labour leader as a "security risk" and Bickley described him as "toxic, anti-British and anti-patriotic" in an interview with the Manchester Evening News. McMahon's campaign focused on local issues such as bringing jobs to the district.
Voting came the day after Corbyn failed to stop Britain joining coalition bombing of Islamic State targets in Syria in a House of Commons vote that exposed the divisions in his party. While Corbyn opposed the extension of airstrikes from Iraq, his foreign-affairs spokesman Hilary Benn spoke in favor and 66 Labour lawmakers backed the government.
UKIP Complaint
UKIP leader Nigel Farage said he will make a formal complaint about the election after party activists claimed there was a "worrying" proportion of postal votes, which he said are open to abuse. He said immigrant communities had changed the outcome in a contest where he expected to cut Labour's share of support.
"In some of these seats where people don't speak English and they're signed up to postal votes, the electoral process is dead," Farage told BBC Radio 4 Friday. "One of the boxes we looked at was 99 percent in favor of Labour and that doesn't seem to be in tune with modern liberal democracy."
Nationally, Labour has fallen further behind since Prime Minister David Cameron's Conservative Party won a surprise parliamentary majority in May. A YouGov Plc poll of 1,657 voters conducted on Monday and Tuesday showed Labour on 30 percent compared with 41 percent for the Tories. Labour won 30.4 percent of the vote in May and the Conservatives 36.9 percent.
Tom Watson, Labour's deputy leader, said lawmakers opposed to Corbyn should learn from the Oldham result and that some had "gone too far" in their criticism.
"I hope our MPs can see that if you stand up for working people, they respond by voting for you in elections," Watson told the BBC. "This was a very very good result for Jeremy Corbyn."
Before it's here, it's on the Bloomberg Terminal.
LEARN MORE