Trudeau Unveils Pricey Social Agenda Amid Worsening Outlook
by and
Liberal pledges for next year tally more than C$7 billion

Tepid economy may temper government's activist plans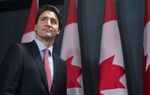 Prime Minister Justin Trudeau spent his first month in power touring the world and laying out pledges abroad. Now begins his work at home, where he must deliver on the sweeping social-policy agenda he sold to voters.
Trudeau's government laid out its activist vision Friday in his administration's maiden parliamentary speech, as lawmakers resume proceedings in Ottawa for the first time since the Liberals won power. The list includes his flagship pledge to increase benefits for the poorest Canadians, which will test his ability to deliver on a promise of fiscal prudence at a time when the economic outlook is worsening.
Taken together, Liberal social pledges will boost Canada's social spending by C$7.3 billion ($5.5 billion) next year -- funding that could reverse the country's slide into the bottom ranks of the Organization for Economic Cooperation and Development. Trudeau will begin by cutting middle class taxes this month before rolling out a series of other measures.
"First and foremost, the government believes that all Canadians should have a real and fair chance to succeed," Trudeau's government said in its Speech from the Throne, read by Governor General David Johnston. The government will "provide more direct help to those who need it, by giving less to those who do not."
The speech is a Canadian custom that officially starts each Parliament, laying out the agenda of the governing party. Trudeau's Liberals put their social pledges front and center, beginning the address by outlining plans to boost the middle class and expand various benefit payments.
Poor-District Victories
For the Liberals, who leap-frogged the more traditionally left-wing New Democratic Party in the Oct. 19 election, success is pinned to boosting social payments. The Liberals won 17 of Canada's 20 poorest districts, according to median after-tax income data compiled by Bloomberg. The districts include Trudeau's own, Papineau in Montreal, which is Canada's third-poorest.
"One thing that stands out very strongly is how lengthy and ambitious the agenda is," said Keith Banting, research chair in public policy at Queen's University in Kingston, Ontario. "It certainly reflects a return of an activist conception of the social role of government."
Canadian social spending totaled 17 percent of gross domestic product in 2014, according to the Paris-based OECD. That's down from 18.5 percent five years earlier and from 18.4 percent in 1995, when a former Liberal government began cuts to bring the country's fiscal situation under control. Canada now ranks 26th of 29 OECD countries, ahead of only Iceland, Estonia and South Korea. France, Finland, Belgium and Denmark all top 30 percent.
Much of the responsibility for Canada's social-spending overhaul falls to Jean-Yves Duclos, a Laval University economics professor elected to his first term as a lawmaker and named Minister of Families, Children and Social Development.
Inequality Point Man
Trudeau, writing to Duclos in his mandate letter, stressed that his "overarching goal will be to increase Canadians' economic and social security." It's Duclos who will spearhead efforts to create a Canada Child Benefit aimed at low-income families, increase old-age security payments, build new affordable housing and craft a poverty reduction strategy.
"We have a more general multidimensional view of inequality and poverty," Duclos said in a Nov. 18 phone interview, citing barriers to housing and employment among other examples.
Trudeau has pledged C$1.8 billion in new money as part of the child-benefit overhaul, citing his new program in Friday's speech. He has also promised support for residents of Canada's remote north, "social infrastructure," unemployment measures, funding for students and youth, expanded home health care, education for indigenous people and better services for veterans.
Redistributive Agenda
A millionaire son of a former prime minister, Trudeau ran on a platform of reducing income inequality, marking the biggest appearance for redistribution in a Canadian election campaign in at least a generation. The message struck a chord with voters, allowing Trudeau to successfully wrest the agenda from Stephen Harper, the tax-cutting former prime minister, to the consternation of some Conservatives.
For one thing, the increase in income inequality took place before Harper took office -- largely while the Liberals ran the country in the 1990s. And it's little changed in recent years, according to an OECD report this spring.
"Poverty and inequality in Canada are pseudo-problems," said University of Calgary political scientist Barry Cooper, who is among the so-called "Calgary school" of conservative thinkers in Canada that included Harper. "These are sort of abstract, meaningless terms, and God knows what that will mean in terms of policy."


Middle-Class Framing
The focus on income inequality, however, gave Trudeau an opportunity to avoid expensive social programs favored by his opponents. The NDP, which surpassed the Liberals to become the No. 2 party in 2011 elections, proposed a national daycare program financed by higher corporate taxes. Harper, in power from 2006 to 2015, also focused on universal social spending -- such as child benefits paid regardless of family income.
"The interesting thing about Harper is he was a universalist, and these guys are talking about income targeting in a modern form," Banting said. The last two Liberal prime ministers, Jean Chretien and Paul Martin, undertook similar measures with different framing. "In that period, it was described as an anti-poverty policy. In the contemporary period, it's framed around the middle class."
Trudeau's first measure will be a tax cut for those earning between C$44,701 and C$89,401, moving the rate to 20.5 percent from 22 percent, while creating a new tax bracket that, in effect, increases the rate on those earning more than C$200,000 to 33 percent from 29 percent. The cut and hike, expected to take effect for 2016, will push the top tax bracket well above 50 percent in some provinces.
Different Lens
Another difference with Harper is where the former Conservative Party leader saw files like employment and housing through an economic lens, Trudeau instills in them social policy objectives.
It's also not the first time the Liberals have come to power promising big things on social policy. Chretien's government was just as ambitious before the focus suddenly turned in 1995 to reining in the country's deficits, Banting said.
There are signs Trudeau too may be forced to choose between social policy and fiscal prudence. Canada's budget watchdog reported this week that Trudeau's government isn't on pace to balance the books by 2019, as it had pledged to do. The C.D. Howe Institute -- a think tank whose chairman was until recently rookie Finance Minister Bill Morneau -- warned Thursday that Trudeau is overestimating the revenue he'll see from his tax increase on top earners. Trade and jobs data released earlier Friday showed more signs of economic frailty.
Trudeau's government alluded to the fiscal challenge in pledging Friday to deliver social pledges "while pursuing a fiscal plan that is responsible, transparent and suited to challenging economic times."
No 'Blank Check'
"Although Canadians voted for change and they voted for this government, they may not have given a blank check to run up big deficits," said Conservative finance critic Lisa Raitt, a former Harper minister. The changes to benefit payments will create confusion as the Liberals move away from a universal approach, she said.
"Fundamentally we believed in universality," she said. "We felt the best way of approaching everyone's issues with child care was to go down that route and not pick which families receive it and which do not."
With papers such as "Testing for Poverty Dominance: an Application to Canada," and "Health and Income: a Robust Comparison of Canada and the U.S." under his academic belt, Duclos is well suited to his assigned task. But his hopes -- and Trudeau's -- may have to be tempered as the Liberals begin governing.
"Now we have to see what actually happens," Banting said. "They also could have their 1995. They could find a lot of these expectations and ambitions run up against a fiscal constraint very quickly."
Before it's here, it's on the Bloomberg Terminal.
LEARN MORE