OPEC Won't Cut Production to Stop Oil's Slump
By , , and
Group effectively has no limit on production, Iran says

Nigeria minister says OPEC to keep oil output at current level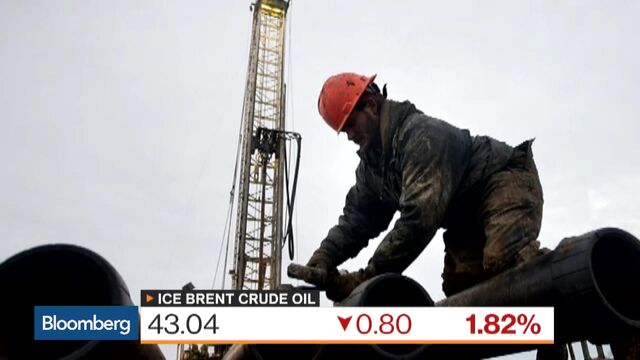 OPEC signaled no respite from the global oil glut that has driven prices to a six-year low.
The Organization of Petroleum Exporting Countries will keep pumping about 31.5 million barrels a day, the group's President Emmanuel Ibe Kachikwu said Friday after a meeting of ministers in Vienna. Members set aside their previous daily output target of 30 million barrels, a ceiling breached for 18 months. OPEC will wait until June to decide on a new limit, Secretary General Abdalla El-Badri said.

"Why should OPEC alone sacrifice its part in the market," Iraq's Oil Minister Adel Abdul Mahdi told reporters after the meeting. "Americans don't have any ceiling, Russians don't have any ceiling, why should OPEC have a ceiling?"
Guided by its biggest producer Saudi Arabia, OPEC has increased output in an oversupplied market in a bid to force higher-cost producers to scale back their operations. A proposal Thursday from Venezuela for a 5 percent cut in the group's production went nowhere as Iran joined the ranks of members refusing to accept any curbs.
"The volume-maximizing strategy goes on for OPEC," said Giovanni Staunovo, an analyst at UBS Group AG in Zurich. "It's at least better to give up a useless ceiling. The burden to adjust supply remains on non-OPEC producers."
No Limits
Crude slumped about 38 percent in the last year, with global benchmark Brent crude headed for its lowest annual average in a decade after reaching a six-year low of $42.23 on Aug. 24. Brent fell 1.9 percent to $43 a barrel Friday, while West Texas Intermediate crude dropped 2.7 percent to $39.97.

"We will be looking at a teeter-totter market," said Daniel Yergin, the Pulitzer Prize-winning oil historian and vice chairman of industry consultants IHS Inc. "U.S. production is going down while Iranian production should be increasing."
Failure to reduce the global oversupply could push oil prices $20 lower next year, Venezuelan Oil Minister Eulogio Del Pino warned before the OPEC meeting.
After Friday's OPEC decision "everyone does whatever they want," said Iranian Oil Minister Bijan Namdar Zanganeh. "I think there will be a decision about how to act on the market in the second quarter of 2016," after Iran has restored some of its oil shipments, he said.
Iran won't accept any production curbs until it restores about 1 million barrels a day of output after the removal of international sanctions next year over its nuclear program, he said. Saudi Arabia said it didn't feel obliged to cut production, which is running close to a record.
One place where production is projected to fall is the U.S. where oil drillers have idled more than half the country's rigs in the past year. The number of active oil rigs in the nation fell to 545, the least in five years, Baker Hughes Inc. said on its website Friday.
OPEC's policy is squeezing incomes for its members, whose combined annual revenue could fall to $550 billion from an average of more than $1 trillion in the past five years, the International Energy Agency said Nov. 10.
Record output this year from Saudi Arabia, Russia and Iraq has boosted global oil stockpiles to an all-time high, the IEA said on Nov. 13. The market is oversupplied by as much as 2 million barrels a day, Zanganeh said.