Norfolk Calls Canadian Pacific Offer Flawed `At Any Price'
by and
U.S. railroad says merger unlikely to gain regulatory approval

Offer fails `every test in terms of valuation,' CEO says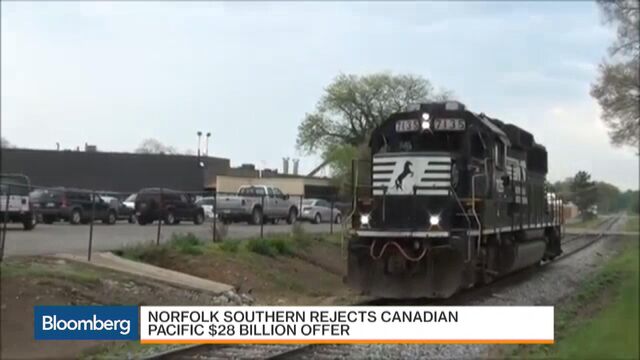 Norfolk Southern Corp. rebuffed Canadian Pacific Railway Ltd.'s $28 billion merger proposal as "grossly inadequate," bolstering its case to shareholders with a plan to shake off its status as an industry laggard in terms of efficiency.
The takeover plan also has a dim chance of gaining regulatory approval, which would be an extended process, the U.S. carrier said in a statement Friday.
"It just failed every test in terms of valuation," Norfolk Southern Chief Executive Officer Jim Squires said in an interview. "We believe we have a tremendous strategic plan that will drive shareholder value to a far greater extent than this proposal ever could."

Squires wants to diminish the appeal of having Canadian Pacific CEO Hunter Harrison -- who has increased earnings at three railroads -- take the helm at Norfolk Southern. The Norfolk, Virginia-based company has lagged behind most large railroads in efficiency. Harrison has promised he could achieve $1.8 billion of cost savings with a merger.
Norfolk Southern said the merger process could lead to more regulation, a concern expressed this week by Union Pacific Corp. and other railroads. The U.S. Surface Transportation Board tightened merger-approval rules after blocking a tie-up between BNSF Railway Co. and Canadian National Railway Co. in 2000, saying that previous large deals hurt service to shippers. Railroads haven't sought approval for a deal since.
Shares Drop
Harrison had said Canadian Pacific probably would need to increase its offer. Squires in a conference call declined to comment on that possibility but said hurdles to approval would remain "at any price." Canadian Pacific had offered of $46.72 in cash and 0.348 share of stock.
Norfolk Southern fell 1.1 percent to $92.06 at the close in New York, putting it below Canadian Pacific's offer of $94.02 a share, based on the Nov. 13 close. Norfolk Southern had surged 17 percent through Thursday from Nov. 6, the last trading day before Canadian Pacific's interest was reported. Canadian Pacific fell 4.1 percent to C$180.15 ($134.70) in Toronto on Friday.
"CP takes exception to the claims, misdirection and mischaracterization of its offer and the benefits such a combination would provide," Canadian Pacific said in a statement. The railroad said it remained committed to a deal and looked forward to engaging with Norfolk Southern management.
Norfolk Southern's rejection was expected and now Canadian Pacific will probably raise its bid, Bascome Majors, an analyst at Susquehanna Financial Group, wrote in a note. The new offer could be worth as much as $130 a share, he said.
"We believe the merger math remains compelling enough for CP to respond to NSC's rejection with the carrot," Majors said.
'Vehemently Opposed'
Harrison's "cut-to-the-bone strategy" and plans to open Norfolk Southern's rail network to limited access from other carriers while giving shipping customers more say on routes would hurt the company's finances, Squires said.
Norfolk Southern executives "haven't talked to a single customer that supports the idea" of a merger, Squires said. "In fact, our customers' responses range from highly skeptical to vehemently opposed." Discussions with shareholders also "helped inform our board's decision."
Harrison had said that shippers had given positive feedback on his proposal and that some Norfolk Southern shareholders had suggested he explore a deal.
Norfolk Southern said it would juice its earnings and stock price through cost cuts, price increases and revenue growth. Operating ratio, a measure of efficiency in which a lower number is better, will drop below 70 percent next year and 65 percent by 2020, the railroad said. The carrier promised "double-digit" growth in earnings per share and that pricing would outpace inflation.
Investors may be skeptical that Norfolk Southern, historically one of the least efficient of the large railroads, can improve operations, said Logan Purk, an analyst at Edward Jones & Co., especially given Harrison's track record.
Big Gap
"The slides are pretty," he said. "The end result will get some nice earnings power and a higher valuation. Can they execute it? There's a pretty big gap between Point A and Point B."
After exploratory talks with CSX Corp. last year failed, Harrison set his sights on using Norfolk Southern as a means to create a transcontinental railroad. Harrison has said that a combination would ease congestion in the eastern U.S., where Norfolk Southern is the No. 2 operator, and offer customers more choices through such steps as opening up terminals to other railroads.
Squires offered to meet with Harrison and activist investor Bill Ackman, whose firm is Canadian Pacific's biggest shareholder, if they entered into a confidentiality agreement, but they refused, according to the Norfolk Southern statement.
Voting Trust
The regulatory process could take as long as 28 months, Norfolk Southern said. Part of the complication is a voting trust that Harrison has proposed creating. The trust would be intended so that Norfolk Southern investors could get their money while the railroad keeps operating on its own pending government approval of the merger. But that voting trust would need regulator consent, which could take as long as six months, Squires said. 
"Even in the unlikely event of approval, Norfolk Southern would be in limbo for this extended period," the railroad said.
Before it's here, it's on the Bloomberg Terminal.
LEARN MORE