Merkel Wins Parliamentary Backing for Warplanes Into Syria
by
German chancellor said to cite need for anti-terror unity

Opposition sees risk of esalation, boost for Islamic State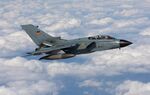 German Chancellor Angela Merkel won parliamentary approval for sending reconnaissance warplanes over Syria, taking her into dangerous territory as she joins Europe's intensified fight against Islamic State militants.
Lower-house lawmakers in Berlin backed the mission on Friday by a three-to-one margin, capping a week in which U.K. Prime Minister David Cameron won parliamentary support to extend airstrikes from Iraq to Syria and Russian President Vladimir Putin called for a joint front against terror, while sparring with Turkey over a downed Russian fighter jet.
Spurred by the Paris terror attacks on Nov. 13 that killed 130 people, Germany will deploy as many as 1,200 troops in the riskiest mission begun by Merkel in her decade in power, though none will be on the ground in Syria. Six Tornado surveillance planes will help target Islamist militants starting in January and a German frigate will protect France's aircraft carrier in the Mediterranean.
"It's a matter of responsibility to take action," both militarily and diplomatically, Norbert Roettgen, a member of Merkel's party who heads parliament's foreign affairs committee, said in a floor speech before the vote. "We've watched long enough."
The mandate passed with 445 voting in favor, 146 against and seven abstaining. Among the Social Democrats, Merkel's junior coalition partner, 28 of 193 lawmakers opposed the deployment. Three members of Merkel's Christian Democrat-led bloc also withheld support.

Merkel dropped German military restraint after President Francois Hollande asked her to join the anti-terror coalition last week. At its full troop strength, it will be Germany's biggest foreign deployment after other foreign missions such as Afghanistan were scaled back.
Merkel decided that Germany had to side with France and demonstrate European unity after the Paris attacks, according to a person familiar with the chancellor's thinking. While there's no deal with Hollande, Merkel is counting on him to support her stance to tackle Europe's refugee crisis that European Union countries need to agree among themselves and with Turkey on a resettlement plan, said the person, who asked not to be identified because the discussions are private.
Hollande welcomes Friday's vote as "renewed testimony to the solidarity between France and Germany," his office said in a statement.
Libya Legacy
Lawmakers in Merkel's Christian Democratic bloc and her Social Democratic coalition partner signaled broad backing before Friday's vote. That's a contrast with 2011, when Merkel kept Germany out of the international intervention in Libya's civil war, saying the outcome was too uncertain.
Aiding in the fight against Islamic State adds to Merkel's political risks just as public resistance to a record number of asylum seekers arriving in Germany this year depresses her poll ratings. While 58 percent of Germans support joining France in military action, 63 percent fear it will increase the risk of terror attacks in Germany, according to an Infratest Dimap poll for ARD television. The Nov. 30-Dec. 1 poll of 1,003 people has a margin of error of about plus or minus 3 percentage points.
"Whoever votes in favor is leading Germany into a war with completely unclear escalation risks," lawmaker Sahra Wagenknecht of the opposition Left party said during the debate. "Instead of combating Islamic State, you're strengthening it."
Before it's here, it's on the Bloomberg Terminal.
LEARN MORE