Indonesia Can Return to OPEC But Can't Escape Aging Oil Fields
by
Suspended membership after becoming net importer of crude

New oil fields seen reversing output drop for only two years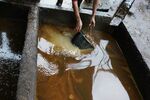 For the first time in seven years, OPEC's newest member will increase crude production. It will likely be just a blip.
The start of Indonesia's Banyu Urip oil field in Java will be the single biggest addition to global supply this year, helping the returning member of the Organization of Petroleum Exporting Countries inch up output by about 1 percent this year and 5 percent the next to approximately 830,000 barrels a day. The decline will resume from 2017, according to BMI Research.
"There will be a temporary boost," said Peter Lee, a Singapore-based analyst at BMI. "It won't be enough to make up for the decline in all other aging fields."

Southeast Asia's largest economy is returning to OPEC as its government warns the collapse in crude prices has worsened an "increasingly unappealing" energy investment climate and dependence on foreign oil grows. With the International Energy Agency predicting the nation will import 40 percent of its oil needs by 2018, the world's biggest producers are getting a consumer in their midst. Members of the group gather in Vienna Friday to debate their crude production policy.
"Our interest is to keep prices from rising too high and from falling too low," Widhyawan Prawiraatmadja, Indonesia's new OPEC governor, said in a phone interview. "If Indonesia is a part of OPEC, we can be sure that OPEC's policy is in line with our interests."
Energy Investment
Investments in the country's oil and gas industry reached $13.6 billion in the first 10 months of the year, well shy of the government's full-year target of $23.7 billion, according to the Energy and Mineral Resources Ministry. The shortfall is due to the slump in oil prices as well as the sector's lessening attraction, according to comments from Energy Minister Sudirman Said on the ministry's website.
The country exported 117 million barrels of crude in 2013, a 47 percent drop from 2000, according to the ministry's data. Imports over that period rose about 50 percent to 118 million barrels. Indonesia depended on overseas shipment to meet nearly one-third of its domestic oil demand in 2012, according to the IEA.

Output from the Banyu Urip field, as well as the smaller Bukit Tua development, will provide the short-term boost to supply over the next two years before the slide resumes, according to BMI's Lee.
Bukit Tua is scheduled to reach its maximum rate of 20,000 barrels a day in April. Banyu Urip's 165,000 peak may be delayed until the first half of next year, according to the energy ministry. The field tops the list of oil projects coming on stream this year, according to data from Energy Aspects Ltd., a London-based researcher.
Proved Reserves
Indonesia's proved oil reserves at the end of last year stood at 3.7 billion barrels, compared with 267 billion in Saudi Arabia and 103 billion in Russia, according to the BP Statistical Review of World Energy.
"Everybody knew from the 1970s that Indonesian production was going to eventually turn negative," said Edward Morse, Citigroup Inc.'s global head of commodities research. "It was a modest level of reserves."
Indonesia aims to increase oil refining capacity to 1.73 million barrels a day by 2025 from 1.23 million next year. That will require investment of $23.6 billion, according to the energy ministry, and includes construction of two new refineries.
With plans to expand refineries faster than it can increase crude output, demand for imported oil, and financing for the new plants, is set to rise further.
"The most likely place they're going to get refinery investment is going to come from a Middle East producer," Morse said. "They're keenly aware of competition for market share by Middle East producers. They can enhance that competition by having their nose under that tent."
Before it's here, it's on the Bloomberg Terminal.
LEARN MORE