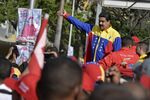 Venezuela's President Nicolas Maduro has kept his promise to "radicalize" the socialist revolution begun by the late Hugo Chavez. And voters are not happy.
The dire state of the economy is on their minds as polls show the opposition taking Congress for the first time in 16 years in Sunday elections. Since taking office in 2013, Maduro has flouted the most basic economic principles from heavy state intervention to doubling down on currency controls.
In five charts, we show the damage his policies have unleashed. 
1. Worthless Bolivar
Every promise to liberalize the country's strict currency controls have resulted in a new system that only quickened the decline of the bolivar on the black market.

2. Poverty Line
As the currency plummeted, Venezuelans saw their real income decline. The country's minimum wage is 9,649 bolivars. That is about $48 dollars a month at the weakest legal exchange rate but only $10 a month at the current black market exchange rate. Bank of America said last month that real wages have fallen 36 percent over the past two years.

3. Highest Inflation
Under Maduro, Venezuela has transformed into a de facto dual-economy with the world's highest inflation. Those paid in bolivars (most Venezuelans) have found their salaries eroded away by spiraling prices and face long lines to buy regulated products. Anyone with access to foreign currency, on the other hand, can shop in well-stocked gourmet stores. Prices between regulated and unregulated goods have diverged, making things like dining out now nearly impossible for anyone on a fixed salary. 

4. Black Market

In the regulated economy, a carton of 30 eggs sells for 420 bolivars. Or 50 U.S. cents at the black market rate. That would be affordable for most Venezuelans, but they're hard to find after the government slashed prices by 65 percent. In the parallel economy, eating out an upscale restaurant in Caracas will set you back 10,000 bolivars or more per person. That is more than what a local may earn in a month.

5. Oil-led Contraction
Oil accounts for 95 percent of the country's export earnings and Maduro thinks that it's producers, and not the marketplace, who should be able to set minimum crude prices. As the price of crude crashed, Maduro blamed the country's troubles on a "economic war" being waged by "oligarchs" in the U.S. and neighboring Colombia, where he closed down the border.
The results speak for themselves. The International Monetary Fund is forecasting a 10 percent contraction this year, the largest in the world.

Before it's here, it's on the Bloomberg Terminal.
LEARN MORE