Greece Accepts EU Border Controls, Defusing Free-Travel Threats
by
EU teams to patrol Aegean Sea, process Greece-bound refugees

Greece responds to threatened suspension from no-passport zone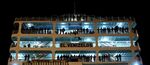 Greece bowed to Europe-wide criticism over its lax refugee policies by calling on European Union patrols and emergency workers to monitor its Aegean Sea borders and process asylum-seekers fleeing war in the Middle East.
The partial handover of border policing and migrant registration to EU-flagged teams came after some European governments threatened to kick Greece out of the bloc's passport-free travel zone due to its leaky external frontier.

"Greece is ready to move, Greece is finally ready to take responsibility in protecting the external border," Austrian Interior Minister Johanna Mikl-Leitner told reporters before an EU meeting in Brussels on Friday. She called the Greek concession "an important step in the right direction."
Struggling with the aftermath of the euro debt crisis, Greece found itself in the middle of another European crisis when it was overwhelmed with Syrian and Iraqi refugees and let many travel further north, creating chaotic scenes across the Balkans and into Austria and southern Germany.
Greece appealed late Thursday for the EU's Frontex agency to send border guards to Greek islands in the Aegean, the first EU stopping-off point for refugees fleeing from Syria through Turkey. Greece also called for the deployment of more Frontex officers on its northern border with the Republic of Macedonia, the agency said in a statement.
In a separate request, Greece invoked EU provisions normally used for natural disasters, calling for European assistance in providing food, shelter and medical care for refugees, the EU said.
Before it's here, it's on the Bloomberg Terminal.
LEARN MORE