Five Things Everyone Will Be Talking About Today
It's Jobs Day! Time to get up to speed.
By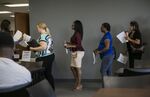 Investors look to nonfarm payrolls, the fallout from Mario Draghi's stimulus plan continues, and OPEC meets to discuss the oil supply glut. Here are some of the things people in markets are talking about today. 
JOBS DAY
November nonfarm payrolls data is due today -- the most-anticipated piece of U.S. data to land ahead of the Fed's Dec. 16 decision on interest rates. It would take a big surprise to derail the Fed at this point. With investor odds of liftoff when the Fed meets later this month at 74 percent, today's jobs data will probably offer more information about the pace of tightening in the months ahead than on the timing of the first hike. Economists are expecting an increase of 200,000 new jobs in the month and for the unemployment rate to hold steady at 5.0 percent. There will also be a lot of attention paid to the Average Hourly Earnings number, which jumped 2.5 percent in October.   
OPEC meets in Vienna
Oil spiked today from near six-year lows, as OPEC ministers gather behind closed doors in Vienna today to discuss output policy. Venezuela -- leading calls for a cut in production -- pressed the point that even Saudi Arabia is troubled about low prices, but Iran signaled it doesn't expect OPEC to do anything to its production ceiling. Iran says it is only willing to discuss output cuts when its production reaches 4 million barrels a day, while Saudi Arabia reiterated its position that other big producers outside the group, like Russia, will have to join output curbs. Oil has slumped since Saudi Arabia led OPEC's decision last year to maintain production and defend market share against higher-cost rivals.  
Market fallout from ECB shock
The euro pared its biggest jump since 2009, recovering after the European Central Bank's underwhelming stimulus package was unveiled yesterday. Mario Draghi's plan, which involved a rate cut and an extension in asset purchases, stung those who had piled on wagers against the euro amid expectations of more aggressive easing. Said one market strategist: "A lesson in over-positioning was delivered overnight." Other markets are still absorbing his message: German government bonds headed for their worst weekly loss in almost six months, Europe stocks fell even lower and Asian stocks tumbled. The disconnect between investor expectations and the reality delivered by Mario Draghi even caught the eye of Fed Chair Janet Yellen, who commented to Congress that "the market expected some actions that were not forthcoming." 
Uber seeking funding
Uber is looking to raise as much as $2.1 billion in a financing round that would value the car-booking company at a whopping $62.5 billion, people familiar with the matter told Bloomberg. The funding shows Uber is accelerating its expansion and branching into new services. Meanwhile, rival ride-sharing firms are forging an alliance to take on Uber's growing global presence. Lyft, China's Didi Kuaidi, India's Ola, and Southeast Asian taxi-booking app GrabTaxi teamed up to offer users traveling overseas seamless access to rides via the same app they use back home. 
Emerging market macro news on deck
And once the deluge of data drops today, investors will be looking ahead to next week's jam-packed calendar for emerging markets. Strategists at Barclays are calling the upcoming stretch "crunch time," with event risk surrounding China's trade figures, a central bank decision in Korea, elections in Venezuela and potential ratings downgrades in Turkey, South Africa, and Bahrain on the horizon. "The events of the past week suggest that push factors of global risk appetite and liquidity are unlikely to become easier for EMs," warned Barclays.
What we've been reading
This is what's caught our eye over the last 24 hours.
Want to receive this post, and more, into your inbox every morning? Sign up here.