Fed Outlier Standard Chartered Sees Yellen Cutting Again in 2016
by
Bank sees Fed raising benchmark to 0.75% before cutting in 4Q

Standard Chartered warns risk of U.S. recession in 2017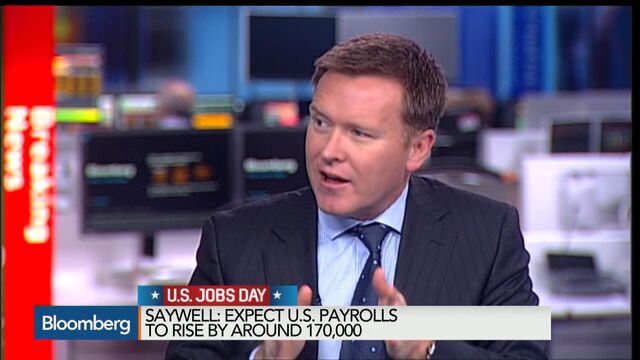 Here's an out-of-the-money call by economists at Standard Chartered Plc: Janet Yellen's Federal Reserve is going to hit the reverse gear in the next year.
After raising its benchmark this month for the first time since 2006, the Fed will be cutting again before the end of 2016 as the U.S. economy runs out of steam, according to Marios Maratheftis, the London-based bank's chief economist and his team.
"We've seen the best for the U.S. economy," Maratheftis told Bloomberg Television this week. "The Fed will actually be forced to cut."
In contrast, the median expectation of economists polled by Bloomberg is for the Fed to lift its benchmark to 1.25 percent from near zero by the end of next year. None of the other 70 analysts see a 2016 reduction. Standard Chartered predicts that the Fed will raise its benchmark to 0.75 percent by March before taking it back to 0.5 percent in the final quarter of 2016 and then to 0.25 percent at the start of 2017.
The bank's call rests on its forecast for the world's largest economy. In the view of its economists, the expansion peaked in the middle of 2014 and will slow to 1.6 percent next year. Again, that's below the consensus estimate which is for 2.5 percent expansion.
Too Optimistic
Behind the pessimism are the view that consumer spending will deteriorate as car sales plateau, core inflation remains tame and hiring slows toward 100,000 a month, about half the recent clip.
With recession risks emerging, the unemployment rate will start to climb and the Fed will be forced into action, according to the London-based bank. In defending its stance it noted the consensus has been repeatedly too optimistic over the past six years.
If Standard Chartered is right it would be the shortest and shallowest hiking cycle in recent memory.
When the Fed raised rates in June 2004 it didn't cut again until September 2007 by which time its benchmark was 425 basis points higher. Prior to that, it boosted its key rate by 175 basis points from January 1999 before cutting in January 2001. From February 2004 it doubled the rate to 6 percent before easing in July 2005.
A 2016 reversal would also add the Fed to the list of advanced nation central banks which raised interest rates in recent years only to quickly turn tail. Already in that club are the European Central Bank as well as counterparts from Canada, Australia, New Zealand and Sweden.
Before it's here, it's on the Bloomberg Terminal.
LEARN MORE