Emerging Stocks Decline as U.S. Job Growth Supports Fed Increase
by
U.S. employers added more jobs than forecast in November

Oil tumbles as OPEC was said to set a new oil-output ceiling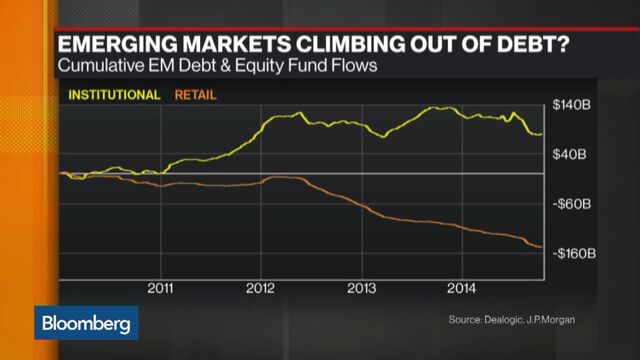 Emerging-market stocks headed for a weekly drop as U.S. jobs data and the European Central Bank's decision to limit expansion of stimulus left riskier assets exposed to Federal Reserve rate increases. Colombia's peso and the Russian ruble paced losses in currencies as oil tumbled.
The MSCI Emerging Markets Index retreated 1.7 percent this week, including a drop of 0.9 percent to 812.27 Friday. Russia's ruble depreciated 0.9 percent against the dollar. Polish bonds retreated for a second day after yields on 10-year securities jumped the most in 14 months on Thursday, linked to the ECB's decision to maintain rather than increase the pace of its monthly bond-buying program.
"Payrolls were higher than expected, which increases the likelihood of a U.S. rate rise later this month," said Tony Hann, the head of equities at Blackfriars Asset Management Ltd. in London. "This is bad news for liquidity junkies, already upset with Mr. Draghi yesterday."
The monthly U.S. payrolls report bolstered the case for Fed Chair Janet Yellen to end seven years of near-zero interest rates after she said Thursday that the world's largest economy is almost ready for higher borrowing costs. By diminishing the allure of higher-yielding assets, the prospects for an upward trajectory in U.S. interest rates has damaged investor appetite this year along with signs that economic growth is slowing in China.
Stocks
Assets in commodity-producing countries fell with oil after OPEC agreed to set a new oil-output ceiling of 31.5 million barrels a day, offering no hope for an end to a global supply glut that has pushed Brent crude to around the lowest price in six years.
All 10 industry groups in the MSCI emerging-market equity benchmark fell, led by energy and consumer-discretionary stocks. A 15 percent slide this year has dragged valuations for the gauge to 11.2 times projected 12-month earnings, a 30 percent discount to the MSCI World Index, which has slipped 0.9 percent in 2015.
Developing-nation shares will fall 10 percent next year, John-Paul Smith, the former Deutsche Bank AG strategist who founded Ecstrat, a London-based research firm, said in a research note.
Currencies
Eastern European equities continued to sell off after tumbling Thursday following the ECB move, which disappointed some investors projecting accommodative policy would shield the region from the Fed. Poland's WIG 20 Index slid 3.5 percent for the week. Newspapers Puls Biznesu and Parkiet reported a range of management shake-ups by the new government.
The Ibovespa tumbled for the fourth time this week, declining 2.2 percent. Brazilian stocks resumed a slump after a rally on Thursday that was driven by speculation that an impeachment of President Dilma Rousseff could finally put an end to a political stalemate that has prevented lawmakers from focusing on measures to pull the nation out of recession.
Colombia's peso weakened 1.9 percent against the dollar, the worst-performance among developing-nation peers. The ruble fell 0.9 percent. A gauge tracking 20 emerging-market currencies declined 0.2 percent, trimming its increase in the past five days to 0.5 percent.
Bonds
India's rupee was little changed, after falling past 67 per the dollar for the first time since September 2013. Traders said state-run banks sold the greenback on behalf of the Reserve Bank of India.
Turkish bonds paced declines among major emerging markets, with the yield on 10-year benchmark notes climbing six basis points to 10.28 percent. The rate on similar-maturity Polish securities rose six basis points to 2.9 percent, underpinning the effect of the ECB's stimulus decision on developing-European countries that rely on Europe for trade.
Asian government bonds also suffered amid the selloff in U.S. and European debt sparked by the ECB's announcement. The yield on South Korea's 10-year sovereign notes climbed four basis points, the most in four weeks, to 2.33 percent.
Before it's here, it's on the Bloomberg Terminal.
LEARN MORE