Draghi Says There Can't Be a Limit to ECB Action Within Mandate
by and
ECB president says QE `recalibration' enough to revive prices

Says aim was to reach inflation mandate, not satisfy markets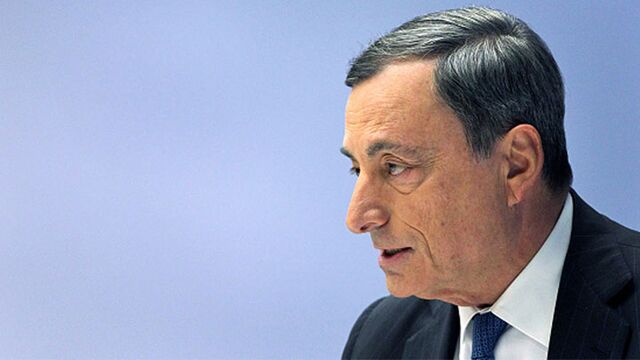 Mario Draghi defended the European Central Bank's expansion of its stimulus program a day after investors panned it, while saying further action can be taken if needed. The euro fell.
QuickTake Europe's QE Quandary
The combination of measures "was not a package meant to address market expectations," the ECB president said at an event in New York on Friday. "It was meant to address the reaching of our objectives."
Bond yields jumped and the euro surged on Thursday after Draghi announced an interest-rate cut and a six-month extension to quantitative easing -- actions that disappointed investors. In New York, he countered that he's confident the central bank will meet its inflation target of just under 2 percent, a level not seen since early 2013.
The euro extended declines as he spoke, and was down 0.7 percent to $1.0865 at 1:35 p.m. New York time.
"Draghi has attempted to undo some of the damage done by yesterday's weaker-than-expected easing," said Krishna Guha, vice chairman of Evercore ISI in Washington. "His language confirms our view that ECB QE this week de facto, and grudgingly, morphed into something very close to a QE3 style open-ended program."
No Revolution
Draghi argued that the newest measures announced -- including the reinvestment of principal payments on the debt held -- will add some 680 billion euros ($740 billion) in liquidity to the system by 2019.
The package was precisely designed to react to a situation where the euro-area recovery is continuing steadily while prices remain too susceptible to slipping into deflation, he argued, and added that there had a been very broad support on the Governing Council to the proposal.
"It was not a revolution," Draghi said, calling the package a "recalibration." "It was not a novel monetary policy change."
Even so, he said that should economic conditions change, he's ready to do more if needed.
"There cannot be any limit to how far we are willing to deploy our instruments, within our mandate," he said. "QE is here to stay."
No Delay
In six weeks of buildup since the previous monetary-policy meeting, Draghi and his closest colleagues had communicated growing concern that inflation expectations would become de-anchored. That had led some investors to expect a larger cut to the deposit rate than the 10 basis-point move that was decided, as well as an increase in the monthly pace of asset purchases.
Draghi joked when asked on Friday if his speech was intended to repair some of the market damage from the previous day.
"No, not really ... Well, of course," he said.
The ECB president said that the institution has "broad discretion" to design programs within its mandate to reach its goals, including the active use of the balance sheet. The inflation rate in the 19-nation euro area was 0.1 percent in November.
"We will secure the return of inflation to 2 percent without undue delay," Draghi said. "Thanks to our monetary-policy actions, the risk of deflation in the euro area is firmly off the table."
Before it's here, it's on the Bloomberg Terminal.
LEARN MORE