Convergex: Google Trends Says It's Time To Raise Rates
The trends are in Yellen's favor.
by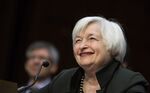 According to search trends on Google, Fed Chair Janet Yellen has the green light to raise rates later this month. At least that's according to the brokerage Convergex.
Google Trends uses Google Search data to show how often a particular search term is entered relative to the total search volume across various regions of the world. In the charts, we have narrowed it down to just the U.S.
The first term Nicholas Colas, Chief Market Strategist at Convergex, points to is "Buy a House." Colas says that searches for this term are up three percent over the past twelve months, which coincides with what Yellen said yesterday, "gains in real residential investment spending have been faster so far this year than last year." 

The next term is "Save Money." You can take this one of two ways: people are struggling and want to find new ways to save money or, as Colas sees it, people are doing better and "have satisfied their basic needs," leaving more room to save. Searches for this term are up 33 percent from last year. 

A third term is "Quit My Job." People typically do not quit their job unless they are confident they can easily find a new one. Hence, more people quitting is considered positive for the economy. Colas finds that the trend for this term hit a new post-financial crisis peak in August of this year and is up 15 percent from last year.

Lastly, Convergex looked at the term "Cheap." Searches for this term are at a new low, Colas says. 

Other terms Colas looked at were "Cheap Gas," "Full Time Job," "Unemployment," "Job Training," and "Bad Credit."
Colas ends by saying that things are looking good on a number of fronts from the general economy to labor markets, but if there is a risk lurking out there, it's with a strong dollar and inflation. "Inflationary expectations? That's where things get complicated. The current period of low inflation for many commonly purchased items has, in fact, altered consumer behaviors and (perhaps) their expectations of future price levels," he says. 
Before it's here, it's on the Bloomberg Terminal.
LEARN MORE