Chipotle Falls After E. Coli Cases Confirmed in New States
by
CDC reports illnesses in Pennsylvania, Illinois and Maryland

Updates comes as Chipotle announces food-safety overhaul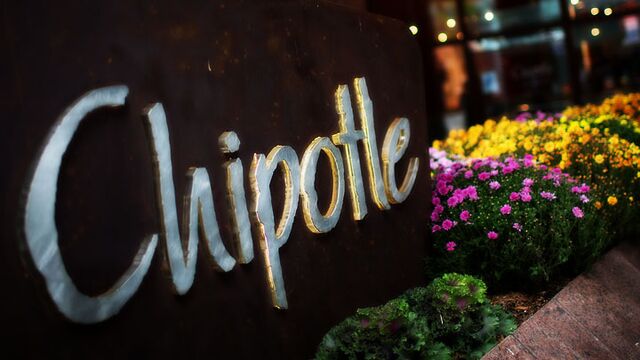 Chipotle Mexican Grill Inc. shares dropped after the U.S. Centers for Disease Control and Prevention reported seven new instances of consumers falling ill due to an E. coli outbreak that's been linked to the Mexican-food chain.
The illnesses have been reported in states including Illinois, Maryland and Pennsylvania, none of which had previously been affected by the outbreak, the CDC said Friday in a statement on its website. The update brings the total to nine states and 52 illnesses, with 47 saying they'd eaten at Chipotle and 20 resulting in hospitalizations. Of the three most recent cases, only one person reported eating at Chipotle in the week before falling sick.

The report of new illnesses comes on the same day that the company unveiled revamped food-safety procedures that include improving its supply chain and conducting DNA testing of produce. Chipotle, which said earlier Friday that there may be more cases, developed the program with Seattle-based IEH Laboratories & Consulting Group, and also is retooling its training to help employees handle food more carefully.
"While it is never possible to completely eliminate all risk, this program eliminates or mitigates risk to a level near zero, and will establish Chipotle as the industry leader in this area," Mansour Samadpour, head of IEH Laboratories, said in the statement.
Shares Fall
Chipotle shares fell as much as 5 percent in New York trading before closing down 0.7 percent at $561.20. The stock has dropped 18 percent this year.
Chipotle, which has about 1,900 U.S. locations, is reeling from several food-safety incidents this year. After the chain was linked to the current E. coli outbreak, it temporarily shut down locations in the Pacific Northwest, which were hit especially hard, and deep cleaned them. Before that, salmonella and norovirus cases were linked to Chipotle restaurants.
The E. coli outbreak appeared to be contained to the Northwest before the CDC said last month that cases had been reported in four additional states. The CDC has said that a "common meal item" or ingredient is likely to blame, though the specific culprit hasn't been identified. Meat is probably not the cause, because vegetarians are among those who have gotten sick.
Chipotle said this week that it had tightened its supplier standards in the wake of the outbreak, a move that threatens the chain's longstanding pledge to buy local food. Chipotle changed its website last month to remove a description of the local produce program, which it started in 2008 and runs from about June through October in most of the U.S.
Before it's here, it's on the Bloomberg Terminal.
LEARN MORE