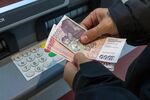 Foreign investors may be getting too comfortable in Iceland.
With capital controls about to be eased, investors are piling in to profit from the nation's higher interest rates, driving the krona to its strongest level against the euro since Iceland's economic collapse in 2008. They're making the same bets that just about drove the country off the financial map only seven years ago.
The currency is surging as the central bank has raised interest rates three times since June to 5.75 percent to cap inflation. With other benchmarks rates across the world near zero, or even below, foreign investors have increased purchases of government debt by 27 percent since May. They now control almost a quarter of Iceland's government debt market.

That's a growing "problem," says the nation's top central banker, Governor Mar Gudmundsson. The bank is now hard at work on measures to limit the benefits from borrowing in low rates and then investing in Iceland.
The plan is to "lower the interest rates towards the foreign parties-- or keep them stable -- even though we're raising rates for domestic parties, which is what matters for the monetary policy," he said last month. "Either by taxation or some sort of reserve requirements with very low or no interest. It's become more important than not that we get an outcome regarding this."
And while policy makers last month signaled that the pace of rate increases may slow as a stronger krona keeps import prices in check, the krona rally may not be done. It's still about 60 percent weaker than in the years leading up to 2008.
According to Lars Christensen, an economist with Markets and Money Advisory who in 2008 was one of the first to warn of the calamity Iceland was facing, it doesn't look good this time around either.
"It's very unlikely that Sedlabanki will be able to manage these flows by imposing speed limits," he said. "Iceland continues to not take the decision on what regime it has and then ad hoc makes up policies. That's not very helpful and it's extremely discretionary and likely to create more volatility not less."
Before it's here, it's on the Bloomberg Terminal.
LEARN MORE