BTG's $1.6 Billion Lifeline: Is It a Silver Bullet or Band-Aid?
by , , and
Chairman Arida says he's now `comfortable' with liquidity

Bank has unloaded assets as investors dumped stocks, bonds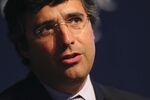 Grupo BTG Pactual SA, the Brazilian bank whose CEO was arrested as part of a sweeping corruption scandal, got a lifeline Friday after the country's privately backed deposit-guarantee fund gave it a 6 billion-real ($1.6 billion) credit line. Investors are left wondering if it's a silver bullet or a Band-Aid.
BTG shares tumbled, but prices on the bank's battered dollar bonds surged from record lows. As the troubled bank races to unload assets and raise cash, concern has been mounting that it may not be enough to shore up its balance sheet and that policy makers will also have to play a bigger role in propping up the firm. That may be easier said than done.

Brazil is beset by a debilitating corruption scandal, a crumbling government and the worst recession in a quarter century -- all of which could limit regulators' options should they have to step up efforts to ease a liquidity crunch.
Prospects for that kind of outcome eased after BTG took steps to stabilize its balance sheet, Chairman Persio Arida said in a letter to clients Friday. "I am now comfortable with our liquidity position, but will continue to push for further asset sales over the weeks to come," Arida said.
Credit from the deposit-guarantee fund will help BTG gain time to weather the crisis as it sells assets to raise funds, a person with direct knowledge of the company's strategy said, asking not to be identified speaking about internal matters. The person said BTG investors have withdrawn all of a type of short-term funding known in Brazil as certificates of bank deposits, which the firm uses to finance day-to-day operations. In addition to selling assets, BTG is reducing its trading positions to conserve cash, the person said.
No Quick Fix
Most investors agree a quick-fix merger probably isn't in the works. There simply aren't many Brazil lenders with the heft to take on BTG, Latin America's biggest independent investment bank. And a capital injection is a long shot, too. Not only has the government seen its budget deficit explode as a recession eroded tax revenue, but anyone willing to engineer such a deal would have to navigate a political landscape no longer hospitable to the sort of back-room dealings that have already gotten so many top executives and officials into trouble.
At the heart of the what-can-be-done-about-BTG debate is that few people seem to really know what needs to be done. Policy makers have been notably quiet on the matter since BTG Chief Executive Officer Andre Esteves was jailed as part of the 19-month-old graft investigation into the state-run oil producer and top builders. BTG isn't saying much, either. Here's what investors do know: Client withdrawals have wiped out half of some fixed-income funds that had totaled 12.7 billion reais before Esteves's Nov. 25 arrest. The company's market value has dropped by 37 percent and its cost of borrowing has soared.
Mark Maletz, one of BTG's independent directors, will lead a committee to investigate "matters arising from the Andre Esteves event," Arida said in Friday's letter to clients.
Withdrawing Funds
Paulo Nepomuceno, a fixed-income strategist at brokerage Coinvalores CCVM, said steps the bank has taken appear to be effective in raising cash. "But people are afraid," he said. "They don't like to see the headlines and that is why they are withdrawing their money. It shows the panic that is going on from the investors' perspective."
The latest stopgap is a credit line from Fundo Garantidor de Creditos, the deposit-guarantee fund known as FGC, BTG said in a statement Friday. The FGC line "is guaranteed by a portion of the credit portfolio of the bank, as well as by assets and a guarantee provided by the controlling shareholders," the firm said.
BTG put up between 7.2 billion reais and 7.5 billion reais in collateral for the credit line, Caetano de Vasconcellos, FGC's legal director, said in an interview.
In the week before today's announcement, investors starved of information and already burned by Brazil's dramatic slide from rising-star to emerging-market pariah had dumped BTG securities. The yield on the 2020 dollar notes had more than tripled in a little more than a week to 22.2 percent Thursday, well above what many investors consider distressed. On Friday, borrowing costs retreated to 16.6 percent. But the company's shares continued their slide, losing 3.9 percent more in Sao Paulo.
"The market is pricing in rumors -- not fact," said Lazar Halfon, the head of HSA Solucoes em Financas, a Curitiba, Brazil-based debt-restructuring firm.
In interviews with asset managers, analysts and banking experts, opinions varied wildly as to what sort of help BTG may need. Halfon and Wilbur Matthews, chief executive officer of San Antonio-based Vaquero Global Investment LP, said asset sales could be part of the solution.
"They need somebody to come in on a white horse and bail them out," Matthews said, adding that a quick sale of the company's asset-management business is one option. "But in a market like you have now in Brazil, I think people are going to be pretty gun shy."
The FGC credit line means BTG will probably survive, though "certainly in a smaller size," the fund's Vasconcellos said. "Obviously what it will change is BTG's ambition it may have had a month ago of being a global institution. BTG will have to review that position."
'Operating Normally'
BTG has declined to comment on its withdrawals, the performance of its bonds and stocks or say how much it plans to raise through asset sales. The central bank said in an e-mail Nov. 25 that the Sao Paulo-based bank "was operating normally," and that it's monitoring the situation. It has declined to provide additional information since or say if it's opened up lines of credit to BTG.
Fitch Investors Service cut is rating on BTG to junk Friday, citing deteriorating liquidity, joining Moody's Investors Service and Standard & Poor's in downgrading BTG this week.
Arida, who took over as chairman after Esteves's arrest, said in a Dec. 2 interview the investment bank is divesting "non-essential" assets. It announced the 2.38 billion-real sale of its stake in Brazil's biggest hospital chain on Dec. 2. The company is also in talks to sell control of a parking-lot company for about 1.5 billion reais, two people with knowledge of the situation said this week. BTG is also seeking to sell BSI, the Swiss private-banking unit it acquired three months ago, according to a person with knowledge of the situation.
Whether all of that will be enough to get the bank through its crisis is anyone's guess.
"It all boils down to the liquidity on one side of their balance sheet versus the other," said Matthews. While it's unclear exactly how liabilities and assets match up, "the reality is that people often make investments that are less liquid than their liabilities."
Before it's here, it's on the Bloomberg Terminal.
LEARN MORE