Big Oil Bracing for Fight to Keep Government Payments Hidden
by
New SEC measure said to seek more specifics than firms wanted

Agency's original rule was overturned after industry lawsuit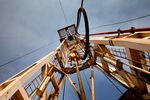 Big energy companies are bracing for the next round in their fight to stop U.S. regulators from making them reveal what they pay foreign governments for rights to extract oil, gas and minerals.
The Securities and Exchange Commission plans to vote Dec. 11 on a revised proposal for addressing a Dodd-Frank Act requirement that firms whose shares trade in the U.S. publicly report payments such as taxes, royalties and other fees, according to a notice posted Friday. Lawmakers inserted the provision in the landmark financial-regulation overhaul, saying it would help reduce corruption in poor countries.
The measure will require companies such as Exxon Mobil Corp. and Chevron Corp. to report how much they spend to develop specific projects, as opposed to simply providing totals for each country as the industry wanted, according to two people familiar with the matter. The approach could set off a new battle between energy firms that sued the SEC to overturn an earlier version and groups like Oxfam America, which filed its own lawsuit to force the regulator to complete the regulation.
"This shows that the SEC recognizes these rules don't work without full transparency," said Jonathan Kaufman, an attorney with EarthRights International, which represents Oxfam. "Not only will full transparency help investors and citizens of resource-rich countries, but it's not going to cause the catastrophic effects that the oil companies were claiming."
Gina Talamona, an SEC spokeswoman, declined to comment on the proposal.
Reduce Corruption
Supported by advocates such as George Soros and Bill Gates, who say it will help ensure natural-resource revenue is well-spent, the rule has sparked controversy since it was included in Dodd-Frank in 2010. Congressional Democrats and other backers of the rule said the transparency also will give investors a fuller view of political risk faced by companies.
Many Republican lawmakers oppose the reports, noting that such payments had nothing to do with the financial crisis. Former SEC Commissioner Daniel Gallagher, a Republican who left the agency in October, said the rule didn't fit with the agency's core mission. Even SEC Chair Mary Jo White said in 2013 that she objected to efforts that "seek to effectuate social policy or political change through the SEC's powers of mandatory disclosure."
The SEC first passed rules requiring the disclosures by public companies that produce oil, natural gas or minerals in 2012. The agency said the requirements would carry an up-front, total compliance cost of about $1 billion across all firms subject to the regime and ongoing compliance costs of $200 million to $400 million annually.
Confidential Information
The American Petroleum Institute, whose members include the largest oil companies, sued to block the rules just months later, arguing that the SEC could have decided to keep some of the payment information confidential. API said the revelations would create an advantage for foreign competitors, who would know how to tailor future bids against U.S. producers.
"The continued concern from industry is that you'll hit the U.S. majors and some of the Western European majors, but that is not going to pick up the Russian state-owned energy company and the Chinese state-owned companies that will never report this kind of information to anyone," said Scott Kimpel, a former SEC lawyer who is now a partner at Hunton & Williams.
Favorable Ruling
In 2013, U.S. District Court Judge John Bates ruled in favor of the industry and invalidated the rule, finding that the SEC erred by asserting that Dodd-Frank didn't give the agency discretion to withhold some payment information.
The industry lawsuit also faulted the initial rule because it didn't exclude payments to governments that restrict reporting. The new proposal will allow companies to seek an exemption if a country's laws bar disclosure, according to the people familiar with the matter, who requested anonymity because the plan hasn't been made public.
The revised measure also responds to Bates's ruling by showing the agency considered whether to keep detailed payment information confidential, the people said. It still won't allow that but will include a legal explanation for the choice, the people said.
API told the SEC in November 2013 that companies shouldn't have to reveal how much they pay each government for the rights to develop a new lease. Instead, reports should simply show how much money was paid to each government entity and in which state or region the activity occurred, the group wrote.
'International Competitiveness'
"The SEC can issue rules that meet their legal obligations to promote transparency while also protecting firms' international competitiveness," said Carlton Carroll, an API spokesman. "The timely development of a new rule following our suggestions could be a win-win for payment transparency and American jobs."
Oxfam, a nonprofit international aid group, sued the SEC in 2014 to press for a new version of the rule. The agency intends to approve a final measure by June of next year, according to a schedule it filed in response to Oxfam's lawsuit.
The rule may provide a test of the SEC's ability to craft rules that stand up to legal scrutiny. The agency has lost several court decisions that found its analysis of economic costs and benefits was defective.
"I think another lawsuit is inevitable," said Robert Treuhold, a partner at Shearman & Sterling in New York. "It's not clear that on this accelerated rulemaking timetable that the SEC would be able to do a sufficient job on the cost-benefit analysis to withstand attack. I'm sure that will be looked at closely."
Before it's here, it's on the Bloomberg Terminal.
LEARN MORE