Before Blankenship Faced Prison, He Called Coal Market Perfectly
by and
Former Massey CEO walked away with $86m compensation package

Blankenship faces a year in prison after ignoring safety rules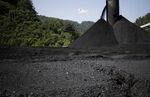 Donald Blankenship may have lost his court case Thursday in connection with the deadly Upper Big Branch mine blast. In betting on the coal market, however, the former Massey Energy chief executive officer was an unequivocal winner.
Eight months after the 2010 explosion that killed 29 people, Blankenship left Massey with $86 million in compensation, according to an estimate by Cypress Associates LLC, a New York-based investment firm. Shortly after his exit, the company announced it was being bought by Alpha Natural Resources Inc. for $7.1 billion. 
The timing was impeccable for both the company and its former CEO: Coal prices peaked at $330 a metric ton that year and have been sliding ever since, reaching $89 this quarter. Now Alpha is in bankruptcy along with at least a half-dozen other U.S. producers as Asia demand wanes and Western countries, citing global warming, curb use of the carbon-intensive fuel.

"Looking back, that was one of the most prescient moves of all time," said Andrew Cosgrove, an analyst at Bloomberg Intelligence in Princeton, New Jersey. "They sold out at the top of the market. That's the only way to call it."
On Thursday, Blankenship was found guilty of conspiring to flout safety rules to speed up production at the Upper Big Branch mine where a blast killed 29 workers in April 2010. The one-time architect of an empire made up of more than 20 mines faces a year in prison in one of the rare instances in which a chief executive has been held accountable for workplace deaths.
Dominant Supplier
As Massey's CEO, he had a clear mission: turning the company into America's dominant supplier of metallurgical coal, a steelmaking component. It was a strategy that paid off, as prices for that variety surged fourfold in the time he led the company.
The $86 million in compensation Blankenship received in 2010 was estimated by Cypress as part of an analysis performed on behalf of those related to the miners killed at Upper Big Branch.
While Alpha approached Massey about merging in the weeks after the blast, Blankenship initially rebuffed its advances, saying the company was worth more than what its share price reflected, regulatory filings show. The deal closed in June 2011.
Since metallurgical coal hit a record $330 a metric ton in April 2011, prices have tumbled 73 percent. Alpha traded for 1.9 cents a share on Thursday. It filed for bankruptcy in August.
"Blankenship was involved in building out Massey in Central Appalachia -- it was the biggest and the baddest," said Ted O'Brien, chief executive officer of Doyle Trading Consultants LLC in New York. "That was the exact peak of the market."
Before it's here, it's on the Bloomberg Terminal.
LEARN MORE