The Argentine Billionaire Who Is Still Bullish on Brazil
by
Eduardo Eurnekian may take several units public in 2016

Corp. America interested in joint bid for Petrobras assets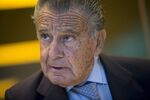 Argentine billionaire Eduardo Eurnekian said he's looking to increase investments in his Brazilian businesses and may also pursue wind energy assets in the country on a bet that Latin America's largest economy is poised for recovery.
Eurnekian, the founder and chairman of the Corp. America holding company that includes assets in airports, energy, construction, technology and agriculture, says the political and economic crises in Brazil will come to an end and that protectionist policies in the region are fading with the incoming government of Mauricio Macri in Argentina.
"The positive part about what's happening in Brazil is that it's getting resolved," Eurnekian said in an interview at his office in Buenos Aires on his 83rd birthday while sipping mate, the region's traditional herbal tea. "We believe strongly in regional cooperation and we're still very open to increasing our investments in Brazil."
Corp. America operates airports in Brasilia and Natal in Brazil and holds a 33 percent stake in Unitec, a microchip maker, that it acquired from former Brazilian billionaire Eike Batista. The Buenos Aires-based holding company is working with a bank to possibly take several units public in New York next year which would include the technology, airports and energy businesses, said Eurnekian, who is the son of Armenian immigrants.
"Next year we should be listing two to three companies in the U.S.," Eurnekian said. "It will depend on a few things but I can guarantee that we'll be ready when the moment comes."

Brazilian President Dilma Rousseff is fending off impeachment proceedings while a judicial investigation into graft has ensnared companies including state-run energy producer Petroleo Brasileiro SA and Banco BTG Pactual SA. The economy is heading for its longest recession since the Great Depression, its currency has tumbled almost 30 percent this year, and the stock market is poised for a third straight year of losses.
Petrobras has been trying to sell its Argentine unit this year. While Eurnekian's Cia General de Combustibles SA already purchased gas fields from Petrobras, he is interested in acquiring more of the assets in a joint bid with other partners, he said. Argentine state-run energy company YPF SA had also put in a bid for the unit.
"We need to wait for the willingness from Petrobras to sell," he said. "Their situation is complex, they're sellers but have to resolve a political issue first. I do think they will be leaving the country."
Rousseff met with Macri on Friday in Brasilia where they discussed regional trade, a possible European Union pact with the Mercosur trade bloc and elections in Venezuela. Macri takes office Dec. 10 and has tapped a former JPMorgan Chase & Co. banker and central bank president as finance minister to fix an underperforming economy and manage the end of currency controls.
In Argentina, there will be a "rush of investment" once Macri generates confidence, he said. For now, bond yields continue to be too high for corporate borrowers which is keeping his units from tapping international capital markets, he said.
"A good dose of confidence should be Macri's first measure," he said.
Before it's here, it's on the Bloomberg Terminal.
LEARN MORE