American Apparel Founder Hires Investment Bank to Pursue Bid
by and
Dov Charney was ousted as CEO and chairman last year

Retailer filed for bankruptcy in October as results worsened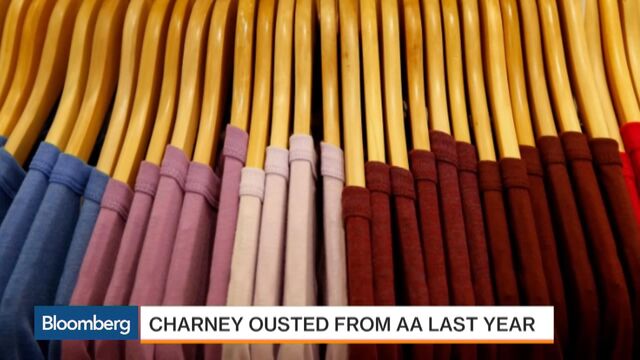 American Apparel Inc. founder Dov Charney is working with a small investment bank on a potential bid to buy the clothing retailer out of bankruptcy.
Charney, who has been trying to regain control of American Apparel since being ousted last year, has engaged Cardinal Advisors LLC to evaluate options, according to a statement e-mailed to Bloomberg on Friday.
Charney was fired last December from his dual roles of CEO and chairman following allegations of misconduct. He has since pushed for his return without success. The retailer was struggling with losses and debt under his leadership, and its results only worsened after his dismissal. That ultimately led the chain to file for bankruptcy protection in October.
"Charney is confident that new and existing investors, working with him and his team of industry leaders, would be able to realize significant long-term value for American Apparel's stakeholders," according to the statement.
Financial Backers
In a short interview, the former CEO said he's been talking to several potential financial partners, but declined to be more specific.
Cardinal Advisors, which was started in 2014, confirmed that it's working with Charney. Co-founder David Felman is a veteran of investment bank Moelis & Co.
"American Apparel appropriately evaluates all indications of interest in the company," Liz Cohen, a spokeswoman for the retailer, said in an e-mail. "It is premature to speculate on any such indications of interest."
The former CEO is running out of time to regain control of American Apparel. Creditors are scheduled to vote in the coming weeks on a company reorganization proposal that is backed by senior lenders. After that, U.S. Bankruptcy Judge Brendan Linehan Shannon will hold a hearing in January to make a final decision about whether to approve the company's reorganization.
Persuading Bondholders
Charney will need to convince American Apparel's current managers, or its bondholders, that he can offer more money to creditors than the current plan. If that fails, he could object to the plan during the January hearing, and he would need to show that he has committed financial backing in order to persuade the judge to choose his proposal over the company's.
The company won court permission on Nov. 19 to send its reorganization plan to creditors for a vote, over the objection of Charney, who complained about how his firing has been portrayed in bankruptcy court documents. Charney had filed an objection under his own name without using a lawyer. The judge gave him permission to add a short paragraph disputing how his firing was characterized in court documents being sent to creditors.
Charney needs a financial backer because most of his net worth was tied up in American Apparel stock, which was wiped out when the company filed for bankruptcy. Last month, he claimed financial hardship in a lawsuit, saying he had to represent himself because he couldn't afford to pay for a lawyer.
Under a deal American Apparel developed before filing bankruptcy, the company will cut debt by giving itself to creditors owed about $200 million, according to court documents. The plan was supported by 95 percent of secured lenders, who will be fully repaid under the proposal.
The case is In re American Apparel Inc., 15-12055, U.S. Bankruptcy Court, District of Delaware.
Before it's here, it's on the Bloomberg Terminal.
LEARN MORE