Abengoa Breaks Spanish Election Taboo With Calls for Bailout
by
Rajoy faces pressure to rescue renewable-energy company

Premier aiming to downplay bailout track record before vote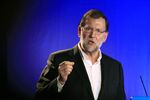 There's one issue above all that Prime Minister Mariano Rajoy is trying to avoid in the run-up to Spain's general election this month and Abengoa SA just put it back on the front pages: financial bailouts.
With the Seville-based renewable energy producer filing for protection from its creditors a month before the polls open, unions and the leader of its home region are demanding a government rescue to protect about 7,000 Spanish workers.
That puts Rajoy in a spot.
Not only does he want to avoid handing voters' cash to a private company right before he asks them to elect him again, but his whole term has revolved around bailouts of one form or another. And his election strategy is to avoid discussing them.
"While a headline about job losses is the last that the PP would like to see, a headline about taxpayer money helping a private company is ammunition for the opposition," Antonio Barroso, a political analyst at Teneo Intelligence in London, said in a telephone interview. "Whether to help Abengoa or not is a difficult decision."
Four Years of Bailouts
Since taking office in 2011, Rajoy has bailed out the regions, the banking industry and extended an aid program for the power industry, piling liabilities onto taxpayers. In June 2012, with investors threatening to shut the Spanish sovereign out of the market, he was forced to seek his own bailout from the European Union.
Spain borrowed 41 billion euros ($45 billion) for the cleanup of its financial system and, in return, was forced to allow EU inspectors to go through its books and enforce a series of financial reforms. He then resisted pressure to seek a full sovereign bailout in the fall of 2012, with the help of the European Central Bank's pledge keep the euro area together.
That's the episode he's focused on since then.
"The great social policy measure of this term: avoiding the rescue," Rajoy told lawmakers during February's State of the Nation debate in parliament. "That was the best one."
Mixed Signals

His ministers have given mixed signals on whether Abengoa should also get aid.
"No one here is thinking of the government injecting additional liquidity into Abengoa," Industry Minister Jose Manuel Soria said in a radio interview Friday. "We're not in a moment when the government would step in if a company found itself in trouble."
When the company sought creditor protection on Nov. 25, Labor Minister Fatima Banez called for "everyone together" to find a way to save Abengoa jobs .
A rescue package, assuming it could get past the EU's state-aid rules, would revive memories of the political turmoil that drove a surge in support for the anti-austerity party Podemos in 2014. But sitting on the sidelines could leave Rajoy open to the charge that he's abandoning workers in a country where polls show unemployment is the biggest concern.
Abengoa filed for preliminary creditor protection with a court in Seville last week and has four months to reach an agreement with creditors under Spanish bankruptcy law. The International Swaps & Derivatives Association is meeting on Friday to decide if the company's filing constitutes a bankruptcy credit event that triggers losses for traders who sold derivatives insuring its debt. 
If the talks with creditors fail, Abengoa will need to file for full creditor protection, a step that leads to liquidation in more than 90 percent of cases in Spain, according to rating company Axesor.
Taxpayers' Liabilities
Spanish taxpayers are already on the hook for some of Abengoa's debt. State-owned Bankia SA, a beneficiary of an earlier rescue, was part of a syndicate that lent Abengoa 1.4 billion euros to refinance its debt last year even as Standard & Poor's warned they'd lose at least half their money if the company was liquidated.
Bankia's exposure to Abengoa is 582 million euros while the Spanish state development bank ICO is owed 160 million euros, according to a list of creditors seen by Bloomberg News. Cofides, an agency that promote overseas investments, has 75 million euros at risk and Cesce, a state insurer, has lent 210 million euros, the Economy Minister Luis de Guindos said Nov. 27.
"Given the size of the workforce, a failure of Abengoa could have a very important impact," said Jose Manuel Gonzalez Limon, an economics professor at the University of Seville. "But if the central or the regional governments decided to help with subsidies it would convert a private loss into a social burden, doing a disservice to the whole country."
Before it's here, it's on the Bloomberg Terminal.
LEARN MORE