A Bigger, Longer World Cup Would Print Money for FIFA, Media
by
FIFA considering adding eight teams, 32 games, to event

Berths for Asia and Africa would broaden sponsors' audience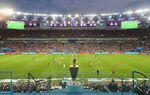 The world's most-watched sporting event is considering a 50 percent expansion that could unlock billions in revenue for global soccer, media companies and sponsors.
As part of a meeting focused on reform to scandal-plagued FIFA, the organization's executive committee Thursday again discussed enlarging the World Cup field to 40 teams from its current 32, and increasing the number of games to 96 from 64. A bigger tournament would also last a week longer than the current, one-month schedule. The new berths would primarily be allotted to teams from Asia and Africa, which currently combine for nine slots, compared with Europe's 13.
The proposal reflects the sport's rapid growth outside its traditional hotbeds. Chinese President Xi Jinping has made soccer a priority in China. Africa's Cup of Nations, which is now also broadcast in Europe, the U.S. and India, is the biggest global soccer event after the World Cup and the Champions League, according to its organizers. "You want those areas to someday be commercially successful, so you have to start investing in opportunities for them," said Chris Bevilacqua, a New York-based media consultant.
Significant money is at stake. The month-long tournament generates almost all of FIFA's revenue. In the four-year period that included the 2014 World Cup, international soccer's governing body earned about $5 billion, nearly half of which came from the global media rights to the tournament. Marketing and sponsorships account for 29 percent, and adding eight more home markets would increase visibility for World Cup sponsors such as Coca-Cola Co. and Adidas AG, FIFA's longest-standing corporate partners.
How much more probably depends on which teams emerge. As it is, almost half of humanity -- more than 3.2 billion people -- tuned in to watch the 2014 competition in Brazil. If the additional slots mean China makes the World Cup for the first time since 2002, it would trigger about ¥10 billion ($1.56 billion) in total spending within the country, according to Yu Hang, vice president of Beijing-based LeTV Sports. A tournament that didn't include the Chinese national team would garner one-tenth of that, he estimated.
Not everyone is in favor of the tournament's expansion. Finding an extra week for games in what is already a packed calendar won't be easy and may spark complaints from players' unions. For the powers in soccer-saturated Europe, there is little to gain. New matches between far-flung long-shots could be relegated to secondary channels anyway, said Alex De Groote, a media analyst at Peel Hunt in London.
"TV companies want audiences, and those big audiences come with big blockbuster matches like Spain versus Germany or Brazil versus the U.S. -- not Norway versus Angola,'' De Groote said.
More games could also benefit networks that already own the rights to the 2026 games, like Fox Broadcasting and NBCUniversal's Telemundo in the U.S., which this year negotiated an extension of their preexisting contract without bidding being opened to competitors like Walt Disney Co.'s ESPN or Univision. Fox agreed to pay a 10 percent increase for the additional four-year cycle, according to the New York Times, a heavy discount in the standard growth of World Cup deals.
If FIFA approves the proposal, Fox and Telemundo could have 50 percent more games against which they can sell advertising -- at no additional cost to the networks. When the IOC adds sports or countries to the Olympics, it generally doesn't change fees for rights holders, said Neal Pilson, a former head of CBS Sports and a consultant to the International Olympic Committee. For reference, U.S. advertisers spent more than $529 million on advertising during the 64-game 2014 men's World Cup, according to research firm Kantar Media.
Fox didn't respond to requests about the details of its contract with FIFA.
The media landscape could look very different in a decade, of course, which means projections based on the value of rights and advertising sold today are little more than wild guesses. Still, it's a safe bet that billions of people around the world will want to watch, which means media companies will want to deliver the games, and FIFA will charge them dearly to do so.
Before it's here, it's on the Bloomberg Terminal.
LEARN MORE