Yellen Signals Economy Nearly Ready for First Interest-Rate Hike
by
Labor market progress seen, higher inflation expected

Waiting too long for liftoff would raise risk of recession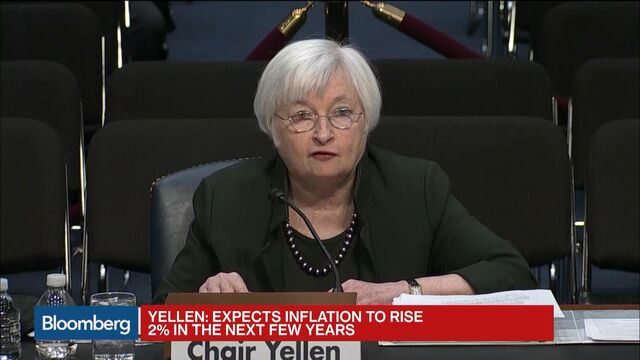 Federal Reserve Chair Janet Yellen delivered a cautiously upbeat outlook for the U.S. economy, signaling the conditions necessary for an interest-rate increase have been met and that she hopes to tighten monetary policy slowly after liftoff.
"I currently judge that U.S. economic growth is likely to be sufficient over the next year or two to result in further improvement in the labor market," Yellen said, according to the text of testimony Thursday before Congress's Joint Economic Committee. "Ongoing gains in the labor market, coupled with my judgment that longer-term inflation expectations remain reasonably well anchored, serve to bolster my confidence in a return of inflation to 2 percent."
Yellen's comments were nearly identical to portions of a speech she gave Wednesday to the Economic Club of Washington and comes two weeks before the Federal Open Market Committee meets in Washington. The group is expected to end an historic era of near-zero interest rates in the U.S that dates back to December 2008, when crisis gripped global financial markets. Economists surveyed by Bloomberg and investors in futures markets anticipate the target range for the benchmark federal funds rate to rise by a quarter percentage point.
The FOMC has said for months it was waiting for further improvement in the labor market and more confidence that inflation would move back to the Fed's 2 percent target.
Job Gains
Yellen noted recent strong gains in the labor market, including an October jobs report that showed employers added 271,000 new positions, the most this year, which pushed unemployment to 5 percent, down from its peak of 10 percent in October 2009.
While signaling confidence on inflation she also said the FOMC will watch closely for real progress on inflation and for any signs that inflation expectations are falling.
Inflation, as measured by the Fed's preferred gauge, hasn't reached the 2 percent target since April 2012.
Yellen also cautioned that waiting too long for the first hike would increase the chances that the Fed would eventually be forced to raise rates quickly. Doing so would, in turn, raise the risk of upsetting financial markets and pushing the economy into recession.
Moving slowly is particularly important when interest rates were so close to zero, she said.
"With the federal funds rate near zero, we can respond more readily to upside surprises to inflation, economic growth and employment than to downside shocks," she said. "This asymmetry suggests that it is appropriate to be more cautious in raising our target for the federal funds rate than would be the case if short-term nominal interest rates were appreciably above zero."
Yellen reflected at length on the progress the economy had made since the depths of the financial crisis.
"When the committee begins to normalize the stance of policy, doing so will be a testament, also, to how far our economy has come in recovering from the effects of the financial crisis and the Great Recession," she said. "In that sense, it is a day that I expect we all are looking forward to."
Before it's here, it's on the Bloomberg Terminal.
LEARN MORE