Photographer: Zack DeZon/Bloomberg
Restaurant Reviews
Wildair Is the Restaurant Industry's Favorite Place to Eat Right Now
A bar on Manhattan's Lower East Side is a retreat for great food and wine. Bring friends.
By
Most people don't like to watch themselves eat. I learned this at Wildair, a lovely little wine bar on the Lower East Side, when my friends and I were squashed together at a narrow ledge, directly in front of a mirror. The arrangement was torture—have you ever seen what kind of monster you look like when you're devouring shrimp with their heads still on?—but luckily Wildair was full of distractions.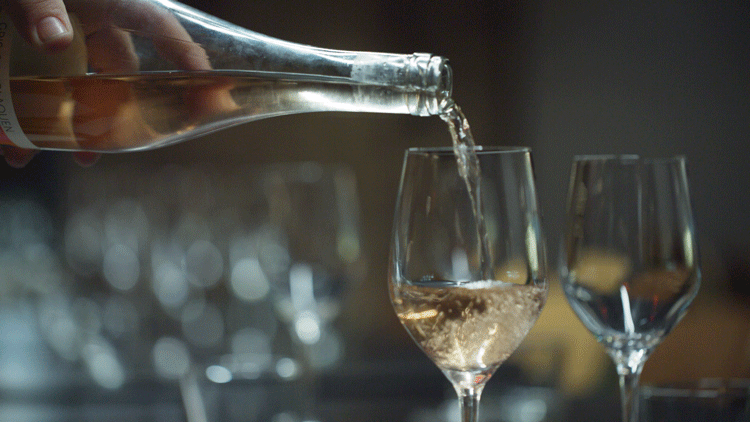 First of all, there's that excellent beef tartare, rebuilt without the egg yolk. The raw meat seems luxurious, sharply seasoned, exhilarated with horseradish and a pale, fluffy snow of smoked cheese and buckwheat groats. You'll want to eat it just as it is, but also spooned onto warm pieces of sourdough. Then there's the dish of creamy-hearted white beans, all dressed up in tahini and ricotta, and the beautifully crisp squid you can dip in aioli that's blackened with ink. For a noisy bar, you'll find the food is suspiciously good.
Co-chefs and co-owners Jeremiah Stone and Fabian von Hauske opened Wildair on Orchard Street this summer, directly next door to their other restaurant and guest-chef hub, Contra. It could easily have been a wine-fueled waiting room on your way to somewhere else, but instead Wildair has become a destination.
On busy nights, people crush into the corners with their motorcycle helmets and leather backpacks to fill out the 40 seats, and you'll notice that chefs, winemakers, food editors, and photographers are all in the mix. This is where they go for a night off—not to air kiss and Instagram (OK, maybe a little bit to air kiss and Instagram), but to enjoy the comforts of good food and wine, reasonably priced, served quickly, and without much fuss.

While Contra is a bit posher and more tightly structured—the restaurant only serves tasting menus—at Wildair anything goes. This means you can get a cool, cloudy glass of pétillant-naturel and a half-dozen oysters and be on your way, like at some Parisian bar à vins. Or, you can get nice and cozy (especially if you can get a seat at the communal tables at the center of the dining room, instead of the torturous ledge) and just keep ordering rounds for a couple of hours. No one will tell you how things work, or how exactly to proceed, because it's completely up to you.
The food is polished, but there's a studied amateur quality to the room that's also part of its appeal: Tables are shoved together and pulled apart as needed throughout the night. Bottles of water are left at the table and silverware and paper napkins are tucked into the schoolhouse-style cubbies underneath, so things are within reach when you need them. Servers haven't been coached to introduce themselves to you with a speech, or explain the menu (the menu does not require explaining). Dinner at Wildair doesn't seem rehearsed at all, more like masterful improv.

Half the fun of eating there is drinking from wine director Jorge Riera's 100-odd bottles, listed simply by reds, whites, and sparklings. When you ask for tips, it's refreshing to feel like you're not being sold, but I sometimes wondered if the waiters hadn't all sworn an oath, refusing to betray excitement over any one bottle. They play it very close to the chest, relaying the bare minimum of information. This would be awful if they didn't still lead you toward tastes of delicious things. They usually do.
The plates are fairly easy to share, if you're sharing, though you won't be nudged one way or another. There's a halved head of dressed romaine, or sometimes it'll be butter lettuce, covered with an intricate network of dill and pistachios, bright and fluffy as a patch of happy, flowering moss. An appetizer portion of grated potato pancake, crisp at the edges, capped with sea urchin, is sliced up like a dollhouse cake. The wagyu steak for two (but really for more) should have been an absolute stunner at $85, but it was served nearly blue, a rare disappointment from Wildair's kitchen.

The pork milanese, at $19, is the other generously portioned thing on the menu. It's breaded and fried until deeply golden and served with a little dollop of gribiche, that extra sharp and eggy mayo, and a jumble of dressed greens. It could easily be dinner, especially if you're getting dessert. There are generally two on the menu, including a fine tart: a crisp pastry shell, pleasingly gritty with buckwheat flour, filled above the brim with a smooth, dense chocolate cream. Sometimes there's a glitter of peanut praline under that chocolate, or hazelnut praline. On a recent evening it was buckwheat praline, nutty and crunchy and almost smoky with caramel.
The chocolate, either by accident, or perhaps as a kind of middle finger to fancy restaurant plating, was piped into the approximate shape of a poop emoji. Maybe part of why Wildair's so cool is that it refuses to take itself too seriously.

Wildair is at 142 Orchard Street (Lower East Side); +1 (646) 964-5624 or wildair.nyc
Rating: Two Stars (Very Good)
What to Order: The menu of about 20 items changes often; look for beef tartare ($14), bread with olive oil ($4), fried squid ($15), white beans with ricotta ($12), chocolate tart ($10).
Who's Next to You: Chefs on their night off, winemakers from out of town, food editors and their posses, thirtysomethings with motorcycle helmets who live in the LES.
Soundtrack: Indie easy listening including the Kings of Convenience, Andrew Bird, Phoenix. 


For the best in travel, food, drinks, fashion, cars, and life, sign up for the Pursuits newsletter. Delivered weekly.
Before it's here, it's on the Bloomberg Terminal.
LEARN MORE