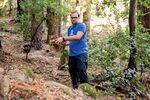 Twenty startup employees are stuck in the mountains in Northern California with one goal: not dying.
The first order of business is building a proper shelter. Dan Baird, the head instructor at California Survival School, divides the employees into teams to gather branches and leaves to construct rickety lean-tos. They're from RealScout—a Silicon Valley startup where their days are spent developing an app that lets you search for homes by parameters such as luxury bathrooms and proximity to Google bus stops. "Insulation, insulation, insulation," says Baird, who looks like he was born wearing a pair of hiking pants. "You're not going to be in here telling ghost stories or playing cards."
On this sunny Friday morning, RealScout's coders, marketing executives, and product team have departed from traditional office duties to learn basic survival skills—all under the guise of team building. In addition to constructing makeshift shelters, RealScout's staff will learn how to purify water, identify wild edibles, and for the main event, start a fire from scratch. "I've never done anything like survival camp before," says Bryan Kay, a member engagement specialist at RealScout, his tapered sweatpants betraying a penchant for fashion over function.
As businesses continue to search for corporate-culture enhancers they hope will give them a competitive advantage, many companies are making their employees play Bear Grylls for the day, believing it may promote bonding and teach teamwork skills that can be used at the office. Culture, of course, isn't something companies can manufacture. But that hasn't stopped them and their chief happiness officers from investing in culture-building off-sites and fads. Over the last few years, Baird says he's seen an "explosion" of tech companies sending groups to him for survival skills training, including Facebook, Google, and Twitter. (Neither Facebook nor Google would confirm their participation.) Interest has doubled each year for the past three years, he says, from an average of about one trip a month to more than one a week.

"Survival—what we're doing today—is literally what we do every day," says Andrew Flachner, the 27-year-old co-founder and chief executive officer of RealScout. It costs him from $7,000 to $10,000 to put business on hiatus for the day, on top of the $2,000 cost of the program. Flachner is betting the excursion will result in some tangible benefits. "It's team building, but it's also reward," he says. He cites "retention" and getting people to "enjoy staying longer at the office" as positive returns on his investment.
Tech companies in particular crave these rugged, disconnected experiences, Baird says. "There's a real thirst for that—a rewilding experience for the overcivilized and technologically inundated." In a hyperconnected world, all a CEO has to do to reboot his employees is put them in the woods. (Although the woods where Baird hosts his retreats have great cell service.)
Corporate team building traces back to human resources pioneer Elton Mayo. His experiments at Western Electric's Hawthorne plant in Illinois in the early 20th century initially focused on ideal light levels to increase worker productivity. Turns out relationships—not light levels—motivated workers. "The desire to stand well with one's fellows, the so-called human instinct of association, easily outweighs the merely individual interest and the logic of reasoning upon which so many spurious principles of management are based," he wrote.
Before workers ventured into the great outdoors, most motivational exercises took place in the same offices where employees worked. Groups talked about their goals, interpersonal relationships, or role clarification.
Sessions went from break rooms to the wilderness in the 1980s. At that time, Outward Bound's rugged wilderness experiences, which first came to the U.S. in the 1960s, became a fixture of corporate life. The popularity of the programs created a mini-outdoor-team-building boom, leading some organizers to offer less Spartan experiences. People hiked out into nature, did hokey activities that had nothing to do with their jobs—remember trust falls and rope courses?—and came back more united. Or, at least, that's how the thinking went.
That idea turned out to be wrong. Multiple metareviews of decades' worth of team-building research have found no conclusive evidence that it improves worker performance. "A lot of companies believe there is some magic that translates into some behaviors, and therefore you get results," says Eduardo Salas, an organizational psychologist who's studied the field for 30 years. "Team building doesn't guide behavior; it's just an experience."
Trust falls have fallen out of favor with employees, who find them "super cliché," Flachner says, but team building is alive and well, from whitewater rafting to entire companies participating in Tough Mudder, the military-style obstacle course.
The California Survival School says it will "take your team's soft skills and leadership practices to the next level through wildly engaging outdoor survival challenges." There's also the added allure of symbolism. "Making fire is the closest thing you can do as a human to making something with nothing," says Thomas Coyne, who runs the Survival Training School of California (not to be confused with the California Survival School), which also organizes corporate wilderness experiences.
Despite activities that seem to ring true (mastering the natural world has long been seen as a key to mastering the modern world), research has found the activities that improve performance are the ones that more closely mimic the actual work being done. "It has to follow the business model," says Jocelyn Kung, founder and CEO of the Kung Group, which has worked with Fortune 500 companies to improve teamwork. "The group needs to have a purpose for doing it and a problem to solve that's related to whatever the mission is." Researchers refer to those more robust methods as team training, not team building. Those activities tend to happen in a conference room, not at a campsite.

Still, managers often say you have to escape from the office to improve performance in it. John Ploumitsakos, a senior director of product strategy and sales at Twitter, took his team to the California Survival School last year. "While wilderness survival isn't something we tackle every day at the office, it teaches us how to tackle new obstacles and operate as a team to solve a problem effectively," he says.
That's how RealScout staffers ended up in the mountains, working their hands bloody in an attempt to make fire out of sticks. "I hope everyone can separate from the anxiety, the urgency, the excitement of a startup and kind of just release," Flachner says.
A few RealScout employees try to find meaning in building shelter and fire. "At face value, no, obviously there's not a lot of skills you can bring back to the office," says Sherin Varghese, a marketing and operations engineer. Office manager Megan Keefhaver points out, "If I'm building this shelter in the wilderness, I'm not going to have a team to do it with." That being said, she's having "a blast," she says.
If fun is the main objective, it's unclear how successful the outing has been. Many of the RealScout employees spent a significant amount of time scrutinizing their iPhones. After the retreat, multiple employees go back to the office in Mountain View. A few say they appreciated spending time with people they don't work with on a regular basis. But still, says Arthur Kaneko, RealScout's chief operating officer, "I like normal work."
Before it's here, it's on the Bloomberg Terminal.
LEARN MORE