What BTG Pactual's Mounting Crisis Means for Brazil and Beyond
By , , and
Founder's arrest adds to investor concerns amid economic slump

Legal inquiries are `very difficult' to price, strategist says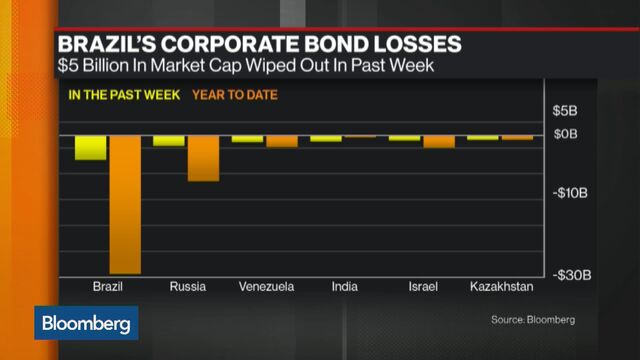 In the ranks of global financial institutions, Grupo BTG Pactual SA is a minnow with a balance sheet smaller than Cleveland-based KeyCorp's. To a Brazilian economy already in peril, it seems much bigger.
The firm's charismatic founder was arrested last week and ceded control Wednesday of the nation's largest independent investment bank. As its leaders began selling assets to stave off liquidity concerns, the bank's shares and bonds continued to slide, bringing those of rivals down with it.
Markets already are unnerved by an economy that has slumped into what Goldman Sachs Group Inc. declared an "outright depression" and by President Dilma Rousseff's battle against attempts to oust her. The Nov. 25 arrest of BTG founder Andre Esteves in a nationwide corruption probe and the subsequent downgrade of the firm to junk are giving investors more to worry about.
"A bank is obviously very entrenched in all financial sectors so we don't know where this is going to go," Pablo Goldberg, a money manager and strategist for BlackRock Inc.'s emerging-market debt team, said in an interview in New York. "From an investor point of view, that is a factor that you need to have in mind. It has balance-sheet implications for some of the credits we follow. It also has business-sentiment implications for the country."
Avoiding Risks
BTG, with 302.8 billion reais ($78 billion) of assets, doesn't rank among the top five financial firms in Brazil. Relative to the local economy, it's closer to the size of Bear Stearns Cos. than to Lehman Brothers Holdings Inc. at the end of 2007, according to data compiled by Bloomberg.
"This crisis doesn't offer any financial systemic risk, but it affects the whole market as it increases risk-aversion," said Joao Pedro Brugger, a money manager at Leme Investimentos in Florianopolis, Brazil, which oversees about 500 million reais in assets. "The other banks' shares are suffering a lot because of their possible exposure to BTG's certificates of deposit."
Some concern is driven by the unknown, such as how customers and counterparties may be exposed to the bank's 1.34 trillion reais in notional derivatives deals -- the sum of its short and long positions at the end of the third quarter. Still, those positions probably wouldn't have an impact on the broader financial system outside Brazil, given that global firms such as Citigroup Inc. typically have more than $50 trillion in notional derivatives contracts.
The widening of Brazil's largest-ever corruption probe, known as Carwash, also is fueling uncertainty. Investors in emerging markets may think twice about putting their money in Brazil because of concern the investigation could ensnare more bankers or other major companies.
"The whole judicial story in Brazil, which goes very independent from politics and economics, is very difficult to hedge and price," BlackRock's Goldberg said.
BTG said last week that it's not part of any investigation. Esteves, through his attorney, has denied wrongdoing.
Changing Control
Seven BTG partners including new co-CEOs Marcelo Kalim and Roberto Sallouti used a share swap with Esteves to take control of the company, the firm said. The announcement came within hours of the bank saying it sold a stake in Rede D'Or Sao Luiz SA, Brazil's biggest hospital chain, for 2.38 billion reais.
The firm also is divesting "non-essential" assets, Chairman Persio Arida said in an interview Wednesday. Other assets on offer include a controlling stake in parking-lot company Allpark Empreendimentos Participacoes e Servicos SA, which could sell for about 1.5 billion reais, two people with knowledge of the situation said this week.
Yields on BTG's $1 billion of 4 percent bonds due 2020 almost doubled on Nov. 25, when Esteves was arrested, and continued to climb to 20.8 percent by the end of trading Wednesday. BTG's stock has lost more than a third of its value over the period, closing at a record low of 20 reais -- though the slide has been slowing the past two days. The MSCI Brazil/Financials Index has slid 11 percent since the turmoil began.
"It's very unclear how they can ever revive their reputation without either a full change in control at the top or an international partner that ends up making a large investment," Josh Rosner, a bank analyst at Graham Fisher & Co., said by phone from New York. "So the question is, 'Where does a white knight come from?'"
'Difficult Situation'
The only official statement from the central bank came the same day that Esteves was detained: Regulators are monitoring the situation and the bank has been operating normally with solid financial indicators. The central bank faces a "difficult situation" as extending an emergency line of credit might fuel panic, said Paulo Vieira da Cunha, chief economist at Ice Canyon in New York and a former deputy governor of the central bank.
Two of Brazil's largest domestic banks, Itau Unibanco Holding SA and Banco Bradesco SA, already are engaged in other transactions, reducing the chance that they'd pursue a deal with BTG, said Max Bohm, an analyst at Sao Paulo-based consulting firm Empiricus Research. Bradesco, for example, has a pending deal to buy HSBC Holdings Plc's Brazilian unit.
"This crisis came at the wrong moment, with Itau and Bradesco focused in other things and the Brazilian economy contracting," he said.