This Lender Lures Millennials With Free Cocktail Parties
SoFi started with student loans. Now it wants to kill banks.
By and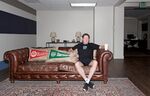 At the Happiest Hour, a cocktail lounge in downtown Manhattan, a group of twenty- and thirtysomethings lined up on a recent Friday to enter a private party. When Azdar Baghirov made it inside, he couldn't quite believe what he saw: platters of mini grilled cheeses, burgers, and BLT sandwiches, interspersed with trays of jalapeño tequila and vodka-cucumber cocktails, all free. Baghirov was invited because several months earlier he decided to take out a personal loan from Social Finance, a four-year-old nonbank lender known as SoFi. "I never expected an event from a lender, to call me and say, 'Come hang out with us, we are building community,' " said Baghirov, an IT system administrator. "Honestly, this is unbelievable."
SoFi rented the space to thank its borrowers—and encourage them to join in the company's campaign to, in the words of Mike Cagney, its chief executive officer, "kill banks." The company gained popularity by refinancing student loans taken out by graduates from top universities, but it quickly started to pursue a more ambitious vision. In the past year and a half, SoFi began making personal loans and mortgages. It's soon planning to roll out a wealth-management tool, insurance products, and something that resembles a checking account.
The company is betting that by making millennials feel as if they belong to an exclusive club, it can turn an entire generation into lifelong customers. "We've always wanted to change the system," says Cagney, a former Wells Fargo derivatives trader with a Stanford business school pedigree. "We can do some things that really get you to start to rethink how your relationship with a financial-services firm should work." If he has his way, banks as we know them will someday be extinct. "We're trying to make these guys dinosaurs," Cagney says. "And hopefully I'm the meteor by which they all die."
Some venture capitalists are buying in to his vision. SoFi says it became profitable in 2014, and in September it raised $1 billion from a group of investors led by SoftBank, the Japanese telecom and Internet company. Others have been lining up to buy the bonds backed by portions of the $6 billion in loans SoFi has issued.
Although Cagney stands out for his bluster, he's just one of dozens of entrepreneurs with dreams of "disrupting" financial services by offering better service, mobile access, or more tailored financing options. Whether he or the others will be able to create significant businesses isn't clear. The big lenders have superior resources and will try to adapt, says Bert Ely, an independent banking consultant. And some may forge partnerships with the new entrants. Online lender OnDeck recently announced that it's teaming up with JPMorgan Chase to make small business loans. "A lot of the upstarts will disappear," Ely says. "It's tough in financial services to break through in a really meaningful way."
For SoFi, making it big may mean losing the bespoke charm that made it so popular in the first place. The company doesn't operate an expensive network of branches, and its application process is online. Still, it provides its members with labor-intensive hand-holding. SoFi already has hundreds of employees at a call center in the heart of Sonoma County wine country, where local caterers bring in lunch every day.
There are other risks. When the Federal Reserve begins raising interest rates, possibly this month, SoFi could find it harder to offer competitive terms. Federal student loans are 4.29 percent for undergraduates and can climb as high as 6.84 percent for some loans for graduate and professional studies. For student loan refinancing, SoFi offers fixed rates as low as 3.5 percent and variable rates starting at 1.9 percent.
Although SoFi dominates the student loan refinancing business, newcomers are vying for a piece of the market. Earnest just raised $275 million. CommonBond, which was founded by Wharton MBAs, has started securitizing loans and says it will have funded more than $500 million in debt by yearend. Banks such as Citizens Financial Group are also active in offering refinancing.
SoFi has had some success rolling out mortgages and personal loans, which now account for about half its business. But as big banks have learned over the years, persuading customers to get other products can be tough. "Generally speaking, the cross-selling opportunity is usually a little inflated," says Michael Tarkan, an analyst at Compass Point Research & Trading.
And as SoFi does more things that banks do, it runs the risk of becoming regulated like one. Cagney has an almost allergic reaction to the thought. "I don't like to use the word 'banking,' " he says. "It just perpetuates the need for those things to exist." Even so, he's not taking chances. He hired Sullivan & Cromwell Senior Chairman H. Rodgin Cohen, one of the top banking lawyers on Wall Street, to help SoFi think through its approach.
Banks have little incentive to innovate, Cagney says. Federal deposit insurance "gives them this lifeline that allows them to exist with crappy products and substandard delivery and branches and all this stuff that nobody wants." Of course, there are some upsides to steering clear of a bank charter. SoFi holds lending licenses in dozens of states. But because it doesn't take deposits, it doesn't have to answer to federal regulators that tell banks how much capital to hold. Banks also have to serve low-income areas through their branches.
For now, SoFi is focusing on bonding with its borrowers. The open bar in New York was one of 45 customer events SoFi hosted this year. The company refers to its more than 85,000 clients as members and does its best to make it seem as if taking out a loan from SoFi offers entrée into an exclusive association of strivers. Part of that image comes from SoFi's business model. Rather than focus on conventional metrics such as credit scores and debt-to-income ratios, it looks for borrowers who earn more than they spend, work in lucrative professions, or hold degrees in fields that promise consistent paychecks, such as nursing.
When borrowers lose their jobs, SoFi allows them to stop making payments temporarily and lands them interviews with potential employers. If a customer wants to start a business, SoFi provides a six-month break from loan payments—and makes introductions to venture capitalists.
The company is also counting on its members to start organizing themselves. After a recent event in Philadelphia, a group of borrowers got together to go bowling, all on their own. Another in Berkeley created a Facebook page to stay in touch after dinner.
If all the clubbiness has a whiff of elitism, that doesn't seem to bother Baghirov or the other hundred-odd people at the Happiest Hour. As Baghirov bit into a smoked fish appetizer, SoFi's co-founder, Dan Macklin, extended his hand across the plush booth. "Are you a member?" Macklin asked. Baghirov said he'd taken out a personal loan with the company. "Yeah, that means you're a member," Macklin said, energetically. "That's a badge of honor!"
The bottom line: SoFi has lent $6 billion to borrowers it treats like members of a club, hoping to make them customers for life.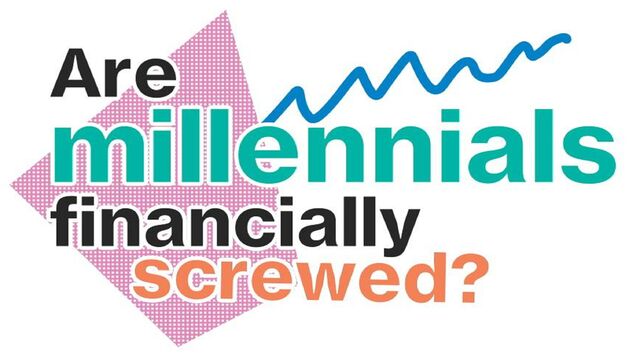 Before it's here, it's on the Bloomberg Terminal.
LEARN MORE