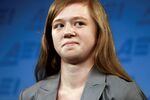 In 2008, Abigail Fisher sued the University of Texas to force the school to reconsider her rejected undergraduate application without taking her race into account. (She's white.) On Dec. 9, Fisher's case, which may set an important precedent on the constitutionality of race-based admissions, will be heard by the U.S. Supreme Court. But Fisher, now 25, won't be directly affected by the result when the justices rule next spring. As her claim progressed through the courts, she enrolled at Louisiana State University, earned her degree, and then moved to Austin, where UT is located, to take a job as a financial analyst. Her only direct stake in the outcome of the case is a request that UT refund her $50 application fee and a $50 housing deposit. The university says she has no right to a refund.
Welcome to the world of ideologically driven Supreme Court litigation, where named plaintiffs often play bit roles in battles waged by legal advocacy groups pursuing policy changes. "I don't think anybody thinks Abigail Fisher's attorneys are litigating this case so that their client can get $100," says Richard Re, an assistant professor at the University of California at Los Angeles who specializes in constitutional law and the federal courts. "They're litigating this case because of the principle."
Fisher's suit was the brainchild of Edward Blum, a former stockbroker who now spends his days organizing lawsuits to fight racial preferences and classifications. Blum's one-man operation, the nonprofit Project on Fair Representation, is backed by conservative groups including the Milwaukee-based Lynde and Harry Bradley Foundation and the Washington-based Searle Freedom Trust.
Blum, a former Austin resident who now splits his time between Florida and Maine, spent more than two years trying to recruit a plaintiff for his UT challenge. He set up a website, spoke to student groups, and networked before finally landing on Fisher through her father, a UT alumnus. "Abby continues with this case not in order to seek that monetary restitution, but rather because she is committed to ending for future applicants the unfair and unnecessary use of race at the University of Texas," Blum says. Fisher said in a video provided by Blum that "it's really great to have a voice in this and to stand up for an issue that I believe in." She declined to be interviewed.
Blum is behind similar lawsuits filed in 2014 on behalf of a group of unnamed applicants against Harvard and the University of North Carolina at Chapel Hill. Those cases, which are pending at the trial court level, have the potential to wipe out the use of race in admissions altogether.
He's also spearheading a Supreme Court case that could revolutionize application of the "one person, one vote" principle. The appeal, scheduled to be argued Dec. 8, contends that Texas' state senate map is unconstitutional because district lines were drawn to equalize the population in each one, rather than according to the number of eligible voters. A ruling in Blum's favor would usher in a major shift in the standards for determining equal representation. It would also likely give Republicans a boost by reducing representation for heavily immigrant—and Latino—urban areas of Arizona, California, and Texas. The impact, however, would be minimal for the two plaintiffs, Edward Pfenninger and Sue Evenwel, a Republican county chairwoman. Their individual votes would have slightly more chance of swaying the outcome in redrawn districts. Both are represented by Republicans.
Conservatives are hardly alone in pressing cases in which the named plaintiffs have only a tenuous interest in the outcome. Civil rights groups on the left, including the NAACP, have long used test cases to push their agendas. The high court is considering two cases this term where the issue is whether a plaintiff has enough of a stake—or standing—to press a consumer or class-action suit against a business. In one, the court is considering whether a defendant can end a suit that seeks class-action status by offering to pay the named plaintiff in full. The case centers on a man who says he received illegal text messages from a company hired to recruit for the Navy and has refused to accept a settlement offer of more than $1,500 per text. The second fight tests whether Congress can authorize consumers to seek damages even if they don't suffer any concrete injury. In that case, a man is trying to sue an online data broker over an Internet profile he says inaccurately listed him as married, middle-aged, and wealthy.
The question of standing threatened to derail a challenge to the Affordable Care Act heard in March. That case, funded by the libertarian Competitive Enterprise Institute, sought to gut the health insurance subsidies that underpin Obamacare. For plaintiffs, the group recruited four Virginia residents who claimed they would be better off without the tax credits because their incomes would fall below the law's threshold for requiring them to buy insurance policies. In the weeks leading up to the arguments, reports in the Wall Street Journal and Mother Jones questioned whether any of the four would have in fact been affected by the outcome of the case. The justices devoted 10 minutes of the 80-minute argument to exploring the question, though they ultimately sidestepped that issue and upheld the subsidies.
The issue of standing also hovers over the Fisher case. The university's attorney, Gregory Garre, argues that Fisher can't continue to challenge the admissions policy now that she's a college graduate. He says the application fees aren't enough to anchor her case because they aren't connected to the alleged wrongdoing; Fisher would have paid those even if she had been admitted. "Damages in the amount of the application fees would not make the admissions any more 'equal,' " Garre said in court filings.
The justices first reviewed Fisher's case in 2013 but sent it back to a lower court. That suggests that, at least then, a majority were satisfied that Fisher had an adequate stake. If that's still their opinion, the court might use the case to issue a ruling that broadly restricts affirmative action—and Abigail Fisher might collect her $100.
The bottom line: Plaintiffs in ideologically driven test cases before the Supreme Court often have little at stake personally in the outcome.
Before it's here, it's on the Bloomberg Terminal.
LEARN MORE