Templeton Bond Guru Sees Pain Coming for Complacent Traders
by and
Hasenstab sees rising U.S. rates as top risk for many traders

Templeton has negative duration in U.S. as Fed liftoff looms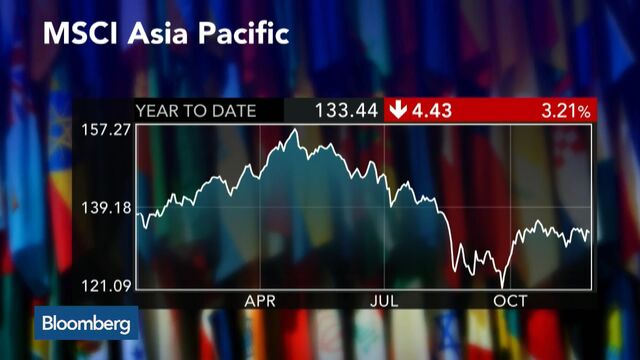 Franklin Templeton's Michael Hasenstab says his bond-market peers aren't prepared for higher U.S. interest rates.
"A lot of investors have gotten very complacent and comfortable with the idea that there's global deflation and you can go long rates forever," Hasenstab, whose flagship Templeton Global Bond Fund sits atop Morningstar Inc.'s 10-year performance ranking, said in an interview on Bloomberg Television. "When that reverses, there will be a lot of pain in many of the bond markets."
Hasenstab, whose contrarian investment approach has delivered annualized returns of about 8 percent over the past decade, said his portfolio has a negative duration in the U.S., meaning that he's positioned to make money from rising interest rates. He's bullish on emerging markets, including Malaysia and Mexico, where he sees currencies that have been unfairly punished this year. The ringgit is Asia's worst performer of 2015 with a 17 percent drop against the dollar, while the Mexican peso has weakened 11 percent.
After holding its benchmark interest rate near zero for the past seven years, the Federal Reserve is widely expected to begin increasing borrowing costs this month. Treasury two-year note yields reached the highest level since 2010 on Wednesday after Fed Chair Janet Yellen said waiting too long to raise rates may hurt the economy.

Two-year Treasury yields have jumped 31 basis points this quarter to 0.94 percent and are forecast to climb to 1.65 percent by the end of next year, according to a Bloomberg survey. A Bank of America Corp. gauge of price swings in U.S. sovereign debt is hovering near this year's low, even as futures contracts show a 74 percent chance the Fed will raise interest rates on Dec. 16.
The $58.8 billion Templeton Global Bond Fund returned 2 percent over the past month, putting it in the top 1 percent of its peer group and trimming this year's loss to 1.2 percent, according to data compiled by Bloomberg. It's average duration was minus 0.12 at the end of October, while the effective duration of the Bloomberg U.S. Treasury Bond Index is 5.99. Duration is a gauge of a bond's sensitivity to changes in interest rates.
---

---
Many investors "have a lot of interest-rate risk in their portfolios," Hasenstab said. "We've taken a much different tack."
Before it's here, it's on the Bloomberg Terminal.
LEARN MORE