Tax Cheat Skips Jail, Dead Father Blamed for Corrupting Him
by
Peter Canale is sentenced to three years' community service

Judge says father's will directed Canale to beat the IRS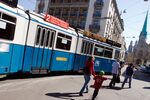 A retired optician who used Swiss bank accounts to dodge hundreds of thousands of dollars in taxes was spared prison, as the judge blamed the defendant's late father for directing him to cheat in his will.
U.S. District Judge Katherine Forrest, sentencing him Thursday in Manhattan federal court to three years of community service, told Peter Canale, 62, that "no parent should do to their children what your father did to you."
Canale said in August that he had concealed assets of more than $780,000 for over a decade, failing to file a report of Foreign Bank and Financial Accounts with U.S. tax authorities. His older brother, Michael Canale, a retired U.S. Army surgeon, was sentenced in 2013 to six months in prison for using the same Swiss accounts to conceal hundreds of thousands of dollars.
After their father died in 2000, prosecutors said, the brothers inherited his Swiss bank account and met with bankers Hans Thomann and Beda Singenberger in New York, where they agreed to continue maintaining the money in Swiss accounts. Peter Canale opened an undeclared account with assets of about $788,000 at Wegelin & Co., a private bank, under the name of a sham foundation, the U.S. said, and then shunted the money into an undeclared account at another private Swiss bank, which the prosecution didn't identify.
By December 2010, the secret accounts held assets valued at about $1.4 million, prosecutors said.
The U.S. has said Singenberger helped 60 people in the U.S. hide more than $184 million in offshore accounts. Authorities learned of his activities when he put a list of his American clients -- with incriminating details -- in the mail.
Dead Hand
In sentencing Canale to community service instead of prison, Forrest said his father had directed in his will that both sons continue to maintain assets in illegal Swiss bank accounts. Although the father died in 2000, she said, Canale was still under his sway.
"I am persuaded that no parent should do to their children what your father did to you and your brother, to break the law," Forrest said. "It was perverse and it was wrong."
Prosecutor Jorge Almonte tried to draw a very different narrative from the events, saying Canale didn't have to follow the will's directives and had willingly accompanied his father to meet Swiss bankers in New York before he died.
After their father's death, "Mr. Canale and his brother met with Mr. Singenberger and agreed to these accounts," Almonte said. "Time and time again the defendant had contact with these foreign bankers." He noted that for 10 years Canale had repeatedly lied to U.S. authorities and concealed the Swiss accounts.
Canale had faced 24 to 30 months in prison, prosecutors said. As part of a plea agreement with Manhattan U .S. Attorney Preet Bharara, he agreed to pay a civil penalty of $394,460, file amended tax returns and pay $106,820 in back taxes. In addition, Forrest directed Canale to pay a $50,000 fine and $90,472 in restitution.
Tax War
Since 2008, the IRS and U.S. Justice Department have been probing overseas banks that set up undeclared bank accounts for wealthy U.S. citizens. More than 50,000 Americans have avoided prosecution by disclosing secret accounts, paying over $7 billion. Separately, offshore banks have agreed to pay more than $4 billion in U.S. fines, penalties and restitution, including UBS Group AG and Credit Suisse Group AG.
Both Singenberger and Thomann have been charged by the U.S. Thomann, who worked at UBS from 1993 to 2003, later worked for Swiss asset-management firms and often traveled to New York to deliver cash to, or accept cash from, a client, according to his indictment. Singenberger, a Swiss resident, was indicted in July 2011. Neither has responded to federal charges filed in New York.
Wegelin pleaded guilty in 2013 in Manhattan federal court to conspiring to help hide more than $1.2 billion in assets from the IRS, while opening undeclared accounts for at least 70 U.S. taxpayers who were former UBS clients. The bank, which paid $74 million to resolve the investigation, closed its doors after 272 years.
Forrest suggested Canale could work in a soup kitchen, with the elderly or with the handicapped. She directed that he perform the service for 20 hours a week for 48 weeks a year.
Before he was sentenced, Canale apologized to the court, saying, "I found myself in a situation, I felt trapped and confused. I chose the wrong path, and I will always regret it."
The case is U.S. v. Peter Canale, 14-cr-713, U.S. District Court, Southern District of New York (Manhattan).
Before it's here, it's on the Bloomberg Terminal.
LEARN MORE