Stallone in `Acquiring Mood' at Miami Art Basel as Stars Swarm
by
Bacon's blue man sells for $13.5 million as high end heats up

Biggest U.S. fair attracts large crowds at opening events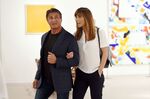 As burlesque acrobats twirled on poles and champagne flowed in the palm-lined courtyard of a 1930s Miami mansion, actor Sylvester Stallone was focused on Art Basel Miami Beach fair.
"I can't wait," Stallone, a collector, artist and co-star of "Creed," the latest edition of his "Rocky" movies, said Tuesday at a party on the eve of the opening preview. "I'll be in a very acquiring mood."
He wasn't alone. On Wednesday, wealthy collectors grabbed paintings and sculptures by blue-chip and emerging artists at the start of the 14th edition of the largest art fair in the U.S. While volume was brisk, the priciest works met early resistance in a market some see as increasingly frothy.
Hedge fund managers Kenneth Griffin and James Chanos, billionaire investor Wilbur Ross, actor Leonardo DiCaprio, New York Yankees star Alex Rodriguez and directors of top U.S. museums browsed the aisles at the Miami Beach Convention Center. The show, which runs through Dec. 6, features 267 galleries and 4,000 artists, with works valued at $3 billion, according to insurer and fair sponsor Axa Art.
"For works priced between $20,000 and $100,000 people come in and spend, they don't even think about it," said art dealer David Nolan, who sold 12 pieces three hours into the show. "Mostly we sold to new people. They all presume it's a good investment."
Business at the upper end of the market picked up on Thursday.
Francis Bacon's "Man in Blue VI" sold for $13.5 million at Van de Weghe Fine Art. The gallery also sold a Picasso painting that had an asking price of $10.5 million.
Poolside Parties
Miami's Art Basel week includes competing exhibition openings, poolside parties and exclusive dinners. On Tuesday, guests braved traffic-clogged streets to go from South Beach to the design district galleries to the packed opening of Art Miami, the city's oldest art fair.
Galerie Gmurzynska, celebrating its 50th anniversary this year, threw a party at the former mansion of fashion designer Gianni Versace, with Stallone co-hosting. Guests included DiCaprio, Pamela Anderson, hedge fund manager Dan Loeb and basketball great Scottie Pippen.
Early sales at David Nolan Gallery included a group of five drawings by Carroll Dunham, priced at $75,000, and two abstract sculptures by Mel Kendrick, at $50,000 each.
The Ramiken Crucible gallery, specializing in emerging art, sold out its entire booth: three photographs by Lucas Blalock, priced at $14,000 each, and four sculptures by Andra Ursuta, at $40,000 apiece, according to co-owner Blaize Lehane.
Rodriguez said he was interested in an abstract painting by Joe Bradley at Gagosian Gallery's booth, but it was already sold.
Sweet Spot
"Larry said it was gone," Rodriguez said, referring to gallerist Larry Gagosian. The gallery declined to give the sale price for the 2015 abstract, a mix of green, white, blue, yellow and brown.
Nearby, Swiss dealer Eva Presenhuber sold another abstract canvas by Bradley, for $450,000. Wyatt Kahn's multipanel white monochrome canvas went for $55,000. Doug Aitken's lightbox shaped as an airplane fetched $285,000.
At David Zwirner's booth, the focus was on figurative painting and the sweet spot for prices ranged from $500,000 to $1 million, the gallery owner said.
The gallery quickly sold a large painting by Kerry James Marshall for $850,000. Chris Ofili's large new painting, recently on view at the Aspen Art Museum, went for $750,000. A painting by young Colombian artist Oscar Murillo featuring his signature doodles and a logo for coconut water Vita Coco fetched $300,000.
"Below $500,000, I pulled the trigger all day long," said Lisa Schiff, a New York art adviser. "For secondary market works over $3 million, it was trickier. A lot of it was bullishly priced. I don't feel comfortable being bullish right now after the auctions were soft."
'Very Measured'
The November auctions in New York tallied $2.4 billion, up slightly from 2014 but down from the May results. Jussi Pylkkanen, global president of Christie's, last month called the sales "very measured." Griffin, whose Citadel has about $25 billion under management, told CNBC that "people should be very hesitant in thinking about art as an investment."
The volatile economy has an effect on art buying, said Ross.
"Not our buying, but in general, people buy more when they feel happy," he said at Wednesday's event.
Dealers said collectors have become more selective for works priced above $1 million, and sales exceeding $3 million were hard to come by at the opening.
"People are more careful with money," said Alberto Mugrabi, a dealer and collector based in New York.
Thematic Shows
Many galleries organized thematic exhibitions to attract clients. Madrid's Galeria Elvira Gonzalez mounted an elegant show of irregular shaped abstract canvases by Robert Mangold. Created from 1966 to 2005, the paintings were priced at $250,000 to $1.3 million and two works sold within the fair's first hour, said gallery director Isabel Mognoni.
At Galerie Gmurzynska, the walls were densely covered with works spanning the 20th century. Anchored by a 16-foot-wide 1989 painting by Robert Motherwell, the hanging was conceived by curator Germano Celant, who called it "an avalanche."
"An art fair today has a danger of losing its magic," said co-owner Mathias Rastorfer. "It's become very predictable."
Many of the fair's top items were unsold by the end of the first day, including Andy Warhol's portrait of Marilyn Monroe, with the asking price of $18 million at Gagosian Gallery.
"It's like a pyramid," said Paul Gray, director of Richard Gray Gallery. "When prices go up there are fewer people who have the money and the confidence."
Mickey Mouse
The New Art Dealers Alliance's NADA fair, which focuses on lower-priced works by emerging artists, was stormed by collectors on Thursday at the Fontainebleau Miami Beach hotel. Multiple galleries reported sold-out booths within three hours. 
Altman Siegel Gallery placed all of its figurative paintings by Laeh Glenn, eight large ones priced at $16,000 apiece and five small ones at $5,000 each. The crisp, flat images came from sources ranging from Pierre-Auguste Renoir to Mickey Mouse. 
Klaus von Nichtssagend Gallery sold 12 paintings by Alex Dodge, depicting patterned fabrics folded into unexpected shapes and priced at $7,000 and $14,000.
11R gallery made its first sale a minute into the fair and quickly placed more than a dozen works, including five paintings by Mika Tajima, priced at $14,000 to $45,000, and two pieces by Moira Dryer, at $15,000 and $30,000.
"NADA is in that perfect price range," said Al Moran, co-owner of Moran Bondaroff, a Los Angeles gallery making its Miami fair debut. The gallery sold 30 works at prices ranging from $10,000 and $70,000, including 14 small figurative paintings by Lucien Smith.
Before it's here, it's on the Bloomberg Terminal.
LEARN MORE