Spring Airlines Signs Pact to Buy 60 Airbus A320neo Planes
Bloomberg News
The aircraft have a combined list price of $6.3 billion

Deal comes after A320 purchase by Vietnam's VietJet last month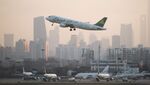 China's Spring Airlines Co., founded by billionaire Wang Zhenghua, signed an agreement to buy 60 Airbus A320 planes to meet demand in a country poised to overtake the U.S. as the world's largest travel market.
The planes have a list price of $6.3 billion and will be delivered from 2019 to 2023, the airline said in a statement Thursday. Some of the planes form part of a $17 billion, 130-aircraft deal signed at an October meeting between Chinese Premier Li Keqiang and German Chancellor Angela Merkel in Beijing, Spring Air spokesman Zhang Wu'an said by telephone.
The transaction reflects the popularity of the single-aisle A320 among low-cost carriers, following a $3.6 billion purchase by Vietnam's VietJet Aviation Joint Stock Co. last month. Spring Air said the new planes will more than double its capacity as of last Dec. 31.
Spring Air shares rose 4.9 percent Thursday to close at 60.28 yuan in Shanghai before the deal was announced. The carrier's shares have risen more than five-fold since their debut in January, compared to the 13 percent advance in the Shanghai Composite Index over the same period.
The purchase comprises 45 A320neo planes and 15 A321neo aircraft, and needs approval from shareholders and relevant authorities, Spring Air said. The planes will be used on some of the 36 new international routes Spring Air has introduced this year and will help it open even more routes, Zhang said.
Demand in Asia will push commercial aircraft sales to $5.2 trillion over the next two decades as China overtakes the U.S. as the world's largest aviation market, according to a Boeing Co. prediction last year.