Putin Swipes at Turkey Over Downed Plane, Warns on Sanctions
by , , and
Putin says Turkey `ruling gang' punished by Allah, lost reason

Russian leader urges global coalition against Islamic State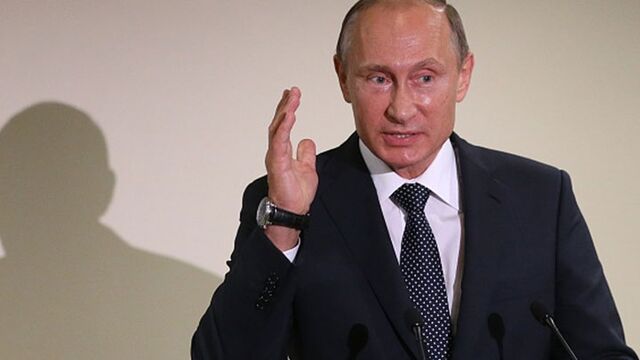 President Vladimir Putin raised the temperature in an increasingly bitter dispute with Turkey over the downing of a Russian warplane last week, saying the country's "ruling gang" has lost reason as he threatened more punitive measures following economic sanctions.
"Only Allah knows why they did this," Putin said Thursday in his annual state-of-the-nation address, drawing applause from his audience at the Kremlin. "And it seems that Allah decided to punish the ruling gang in Turkey by stripping it of common sense and reason." Repeating accusations that Turkey is making money from Islamic State's illegal oil trade, Putin vowed that Russia "won't forget those who shot our pilots in the back."

Putin showed no signs of backing down from his conflict with Turkish President Recep Tayyip Erdogan, the worst confrontation between Russia and a member of NATO since the Cold War. The crisis sparked by the downing of the warplane has complicated Putin's efforts to form an anti-terror alliance with France and the rest of the U.S.-led coalition after a wave of terrorist attacks. Islamic State has claimed responsibility for killing 224 people by blowing up a Russian tourist plane over Egypt in October and the Paris attacks last month that left 130 people dead.
"Erdogan has a very long memory and the relationship will struggle to recover from this," Timothy Ash, a credit strategist at Nomura International Plc in London, said by e-mail. "The religious angle being used by Putin is unlikely to go down well in the region, where Erdogan is still seen as a defender of the Sunni faith."
Anti-Terror Front
The Russian leader reiterated his call for a joint front under the United Nations to defeat terrorism, saying it's impossible to achieve that goal "through the efforts of a single country." He compared the fight against Islamic State to the struggle against Nazism, saying the battle is a fight for justice in which Russia is playing a leading role. He began the speech by asking for a moment's silence to honor the memory of Russian servicemen killed in Syria, where his military is conducting airstrikes in support of President Bashar al-Assad against Islamic State and other groups.
The call for unity contrasts with Putin's tone a year ago, at the height of the worst geopolitical standoff since the collapse of the Berlin Wall. He then attacked the U.S. and Europe for backing the government in Kiev following Russia's annexation of Crimea and amid a separatist insurgency in eastern Ukraine. While this time he didn't address the Ukraine crisis directly, Putin said the country will have to be prepared to weather sanctions for a long time.
Slumping Economy
Russia's economy has been battered by U.S. and European Union sanctions together with the collapse in the price of commodities, the country's main export earners. While European diplomats say sanctions will likely be extended for another six months in January, foreign investors are hopeful the measures will be eased or lifted during 2016.
Putin said that Russians must be ready for prolonged low oil prices, as well as sanctions. He highlighted some improvement in the recession-hit economy as inflation eases even as people's living standards remain under pressure.
"The situation is definitely difficult, but not critical," he said. "We are already seeing positive trends."
Before it's here, it's on the Bloomberg Terminal.
LEARN MORE