Ragtag Activists Push Banks to Dump Coal
Plunging prices help make the argument persuasive.
By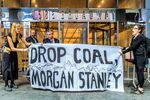 The anti-coal protest outside Morgan Stanley's 42-story tower in New York attracted only three people—four if you count the infant one of them happened to be baby-sitting. The few bankers who walked outside to meet restaurant deliverymen appeared to barely notice as the activists sang, "Go tell it on the mountain. Your bank poisons us." It was all over in 15 minutes.
The Nov. 19 demonstration hardly seemed like the kind of thing that would lead an investment banking behemoth to stop putting money into fossil fuels. But the movement that sponsored it is getting results. Two weeks after the protest, Morgan Stanley declared it would cut funding for coal mining and promised to consider the perspectives of environmental groups in financing decisions. It declined to comment on the activists. Eight other global banks have made similar commitments this year. That goes beyond what many pension funds and college endowments have done. Harvard's president has dismissed students' calls for coal, oil, and gas divestment.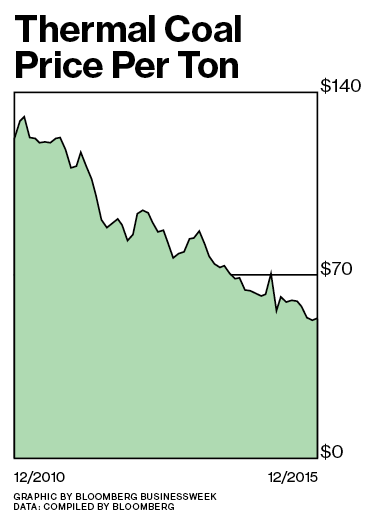 "New coal mines and new coal-fired power plants can't be built without the behind-the-scenes support of major financial institutions," says Ben Collins, senior research and policy campaigner at the Rainforest Action Network. "They're aware that they're exposed reputationally on this issue."
Power plants that burn coal generate about 40 percent of the electricity used in the U.S. and around the world, and the World Coal Association says there's enough in the ground to last 110 years. The protesters' goal is to keep that coal underground by preventing mining companies from raising the money they'd need to dig it up.
Bank of America was among the activists' first targets. They hung anti-coal banners across from the bank's headquarters in Charlotte in 2007 and at the Bank of America stadium, where the Carolina Panthers play, in 2012. Dozens of protesters were arrested for blockading bank branches in other actions, and college students disrupted several on-campus recruiting events. Initially, the bank said it was diametrically opposed to the environmentalists' positions, according to the Rainforest Action Network. Then in May, it adopted a new policy, citing pressure from activists. The bank, which didn't frame the move as a reversal, said it "will continue to reduce our credit exposure to coal extraction companies." The bank declined to comment.
Citigroup, also the target of environmental protests, announced its own plan this year to reduce coal lending, as did Wells Fargo, ING Group, and the French banks Crédit Agricole, Société Générale, and BNP Paribas. At the time, Jean-Laurent Bonnafé, BNP's chief executive officer, called the change "an environmental and economic necessity." The announcements were short on specifics, and because the move away from coal financing is so recent, it hasn't yet shown up in industry data.
The banks may have a less-than-altruistic reason for changing their stance: Coal has been a terrible investment lately. With some utilities switching to cheaper, cleaner natural gas, a coal benchmark price fell to $53 a ton in December, the lowest since at least 2008, and down from a peak of $139 a ton in 2011. At the Paris climate talks, world leaders are debating emission reduction targets that may require drastic cuts in coal use. Three big U.S. coal companies, Patriot Coal, Alpha Natural Resources, and Walter Energy, filed for bankruptcy this year.
Robert Murray, the CEO of coal producer Murray Energy, says the banks are making empty promises. When his company issued $1.3 billion of high-yield bonds in April, Deutsche Bank underwrote the offering together with Goldman Sachs, which later pledged to be "selective" about coal financing. He says banks won't cut off mining companies like his, which have profitable prospects. "The whole movement is more politics than real concern about their coal investments," he says. "In virtually every case where they have said that they would turn away from coal investments, they always left some sort of a hedge in there that allows them to do otherwise." Deutsche Bank and Goldman Sachs declined to comment.
Still, dumping coal may just be good business, says Jonathan Finger, whose family-owned investment firm, Finger Interests, has stock in BofA, Citigroup, and JPMorgan Chase. "I don't think it is necessarily fair to assume this is a disingenuous effort," he says. "Many existing and would-be customers for large banks have concerns about climate change. Banks, especially retail-oriented banks like Bank of America, are concerned about their reputation and image with consumers."
The bottom line: On Nov. 30, Morgan Stanley said it would reduce funding for coal mining projects, joining eight other global banks.
Before it's here, it's on the Bloomberg Terminal.
LEARN MORE