Parisian Holiday Shoppers Avoid Big Stores in Wake of Attacks
by
Consumers switch to online retail, local convenience shops

Visits to main Galeries Lafayette outlet drop by one-third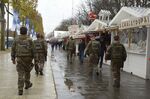 Valerie Meyer did last year's Christmas shopping on the Champs Elysees and at big stores across Paris. After last month's terrorist attacks in the French capital, she's making her purchases closer to home.
"I don't want to hang out anywhere that could be a target like a mall," the 27-year-old hairdresser said on a metro train from work. In the weeks since the atrocities, she bought her nephew's Christmas present online and replaced her regular grocery run with a visit to a local convenience store. "It's more expensive but I feel more comfortable" doing it that way, she said.
Meyer exemplifies the shifting shopping habits in the City of Light after the Nov. 13 attacks, which claimed 130 lives. Parisian department stores, hotels and restaurants have received fewer visitors as tourists postpone trips. Meanwhile, online retailers and convenience stores have seen business pick up, accelerating a trend that has taken hold amid anemic economic growth.
Visits to Galeries Lafayette's main store in central Paris have dropped by about a third in the past two weeks, said a spokeswoman for the department store. The crowds browsing aisles of handbags and perfumes on the ground floor, usually in the hundreds, was reduced to scores last Friday afternoon. At a Burberry stand, staff outnumbered customers.
It's a similar picture at hotels and restaurants across the capital. Accor SA Chief Executive Officer Sebastien Bazin said Wednesday he expects demand for Paris hotel rooms to dip for two to four months.
Growth in France's services sector slowed in November to the weakest in three months, according to Markit Economics. Passenger bookings for flights arriving in Paris during the Christmas period declined 13 percent in the week after the attacks compared with the same period last year, according to travel data specialist ForwardKeys.
Still, residential neighborhoods further from the shopping and tourist districts reveal a more bustling city. Staff at the Monoprix, Franprix and Carrefour supermarkets near La Motte-Picquet-Grenelle metro stop in the 15th arrondissement said they had served as many or more customers than usual at this time of the year.
More people shopped at Franprix-owner Casino Guichard-Perrachon SA's convenience stores in the days following the attacks, according to a company spokeswoman. Bruno Monteyne, an analyst at Sanford C. Bernstein in London, expects that trend to continue with the state of emergency set to last at least three months.
"The likely rationale for this growth is consumers wanting to stay away from large hypermarkets, particularly as they are normally attached to malls," Monteyne said. "This may, in less than ideal circumstances, mean that Casino can expect a good fourth quarter in its convenience banners."
Online retailers are also getting a boost. The spokeswoman for Galeries Lafayette said the department-store operator has seen an increase in traffic to its Web store in the past two weeks, though not enough to compensate for the decline in visits to its actual stores.
France is maintaining its forecast for 1.1 percent gross domestic product growth in 2015. While the attacks have probably hurt economic output, Prime Minister Manuel Valls said Tuesday he hopes the lost growth will be made up by the end of the year.
Even in a difficult context, "the French are still going to spoil their close ones" over the holidays, said Leyla Guilany-Lyard, EBay Inc.'s head of marketing and communications in France.
Before it's here, it's on the Bloomberg Terminal.
LEARN MORE