New Jersey Democrats Fail to Override Christie Gun-Control Veto
by
Assembly approval would have marked first successful override

Mental-health check a sticking point on presidential trail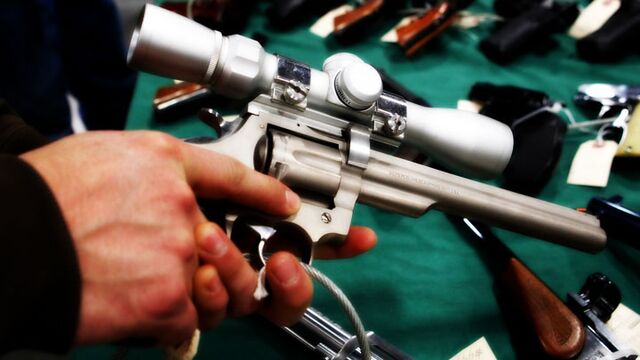 Democrats who control the New Jersey legislature failed to override Republican Governor Chris Christie's veto of a gun-control measure.
Not since Christie took office in 2010 have Democrats mustered enough votes in both legislative houses to overturn any of his more than 400 vetoes. Thursday's unsuccessful override in the Assembly came a day after a mass shooting in California reignited the debate over firearms restrictions.
The measure, which required seven Republicans to attain the required 54 votes, was pulled with the tally at 51-17, with 11 abstaining. Assembly Speaker Vincent Prieto, a Democrat from Secaucus, said in a statement that he "will put this bill back up again and again."
During an October vote by New Jersey's Senate on the gun-control bill, three Republican lawmakers broke ranks for the first-ever successful Christie override in that chamber. The move signaled cracks in the governor's wall of support and forced scrutiny of his record among U.S. voters who treasure the right to bear arms.
Once a proponent of gun control, Christie has rejected recent attempts to limit sales and possession, bringing him in line with voter sentiment in Iowa and New Hampshire, where early contests will thin the field of candidates seeking the Republican presidential nomination.
The New Jersey legislation would have required extra law-enforcement review of gun-license applicants who try to expunge mental hospitalization records. In his veto message Aug. 10, Christie criticized it as part of "patchwork proposals and fragmented statutes," and he recommended a broader mental-health focus, as he first proposed last year. Since then, he wrote, "we have only seen more tragic examples of individuals suffering from mental illness that have committed horrific acts of violence."
The bipartisan measure passed both chambers unanimously this year. For a successful override, seven Republicans would have had to side with all Assembly Democrats.
Before it's here, it's on the Bloomberg Terminal.
LEARN MORE