Top China Cop Targets Bankers After Locking Up Security Czar
Bloomberg News
Ex-Beijing police chief's dragnet shaking financial world

Fu Zhenghua once urged cops to `kill the enemy with one shot'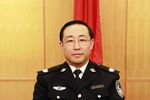 The high-ranking cop who brought down one of China's top Communist Party officials has been put in charge of a corruption probe of the securities industry in the wake of a summer stock crash, said a person familiar with the matter.
The appointment of Fu Zhenghua underscores the importance that President Xi Jinping has given the investigation into possible securities fraud linked to the $5 trillion wipeout in June and July. Fu has had several promotions since Xi came to power in 2012, and oversaw the case against former Politburo Standing Committee member Zhou Yongkang, said three people familiar with the case, who asked not to be identified because Fu's role hasn't been made public. Zhou was sentenced to life behind bars in June.
The 60-year-old former Beijing police chief, who also led a corruption case against one of China's richest men and busted a huge prostitution ring in 2010, is overseeing a probe under which police have questioned dozens of executives at securities firms amid allegations of insider trading and other malfeasance stemming from the crash, one of the people said. The investigations have intensified in recent weeks, sending fear through China's finance firms and chilling their investment strategies.
'Capable Assistant'
"Fu is a capable assistant to Xi because his cutthroat style would help the investigation get to the very bottom of things, and to make sure things under Xi's full control," said Zhang Lifan, a Beijing-based political commentator. "An investigation into the financial sector could easily damage the interests of some power havens, and Fu is more than qualified to fight Xi's battle as he's famous for not being afraid of offending anyone."
Now a deputy minister for public security, Fu made it clear that he was leading the securities probe while running a meeting in early July where officials from the securities regulator, the police, and the party's anti-corruption watchdog first discussed an investigation, the person said. In a document cited there, Xi urged the ministry to give a thorough probe of market manipulators and protect regular investors, the person said.
'Malicious' Investments
Details of the meeting were not publicly disclosed, though the official Xinhua News Agency reported that Fu's ministry urged those involved to crack down on crimes connected to the stock and futures markets, and to investigate evidence of "malicious" short selling. Another deputy public security minister, Meng Qingfeng, later visited the regulator's offices in Beijing, in a pointed message to violators, while Fu's role hasn't previously been known. The Public Security Ministry didn't respond to a faxed request for comment.
Fu cut his teeth in investigating financial crimes in 2008, when he put away Huang Guangyu, China's richest man at the time. Huang, the billionaire founder of Gome Electrical Appliances Holding Ltd., was sentenced to 14 years in prison for bribery and insider trading. The case was politically sensitive. Former Assistant Public Security Minister Zheng Shaodong was later convicted of corruption over his links to Huang and received a suspended death sentence.
Since August, official media have reported the detention of several senior executives of Citic Securities Co. -- China's biggest brokerage -- on suspicion of insider trading and leaking sensitive information. Other top securities firms such as Guosen Securities Co. and Haitong Securities Co. are under investigation. On Friday, China Merchants Securities Co. said a former general manager of its fixed-income division had been arrested and fired over undisclosed allegations.
Like the Gome case, the probe of the securities industry is politically charged in part because all three firms are units of state-owned companies. Moreover, state media had fanned the rally that precipitated the crash, and concerns arose over the government's ability to manage the crisis after regulators imposed and then lifted a series of measures to arrest the slide. 
Interest Groups
The market has recovered from its late-August low, and the benchmark Shanghai Composite Index is now up more than 10 percent for the year.
"The probe into the industry is sensitive because it can offend different interest groups," said Hu Xingdou, an economics professor at the Beijing Institute of Technology. "Xi has taken on a tough job by cleaning up a sector where notoriously murky finances feel very comfortable and corruption is everywhere."
Fu has drawn both the respect and ire of police officials in his time as a cop. In 2010, he led a campaign against prostitution, including a bust at a karaoke club then said to cater to the political elite. The raids resulted in 1,000 arrests and footage of the busts -- featuring alleged prostitutes and their clients sitting on couches and hiding their faces -- was aired repeatedly on state television.
Big Vs
In 2013, Fu oversaw a clampdown on "Big V's," popular bloggers whose sometimes anti-establishment comments drew the ire of party leaders. He was promoted to deputy public security minister, the agency Zhou once ran before becoming a member of the Politburo Standing Committee.
In March, Fu was promoted to deputy party secretary of the ministry. His portfolio includes the Central 610 Office, responsible for ensuring social stability and controlling religious groups the government considers cults such as the Falun Gong. 
Fu is one of the few senior officials to publicly advocate easing restrictions on police carrying firearms. After a knife attack at a train station in the southwestern city of Kunming that left 33 people dead last year, Fu donned a black police SWAT uniform and toured Beijing Railway Station. Wearing a holstered pistol, he told police "kill the enemy with one shot" in the event of attack, according to Xinhua. 
He was seen by reporters from the official Legal Evening News wearing the same gear on New Year's Day while patrolling Wangfujing Avenue, an area near Tiananmen Square that's popular with tourists.
Drinking Ban
Earlier this year, Fu demanded police work longer shifts, prompting a wave of resignations. The agency told those who wanted to quit he would transfer them to remote stations, according to two people familiar with the matter.
In January 2014, Fu also ordered police to sign a document promising not to drink alcohol outside their own homes, the people said. The Beijing Youth Daily reported at the time that a wife of a Beijing police wrote a letter of thanks to Fu, saying the alcohol ban "really changed" her husband.
"Most of these people used to work with him but he didn't dwell on the old relationships," a friend of Fu's said, according to the official Oriental Outlook magazine. "He knows what to do when handling major problems."
— With assistance by Nick Wadhams
Before it's here, it's on the Bloomberg Terminal.
LEARN MORE